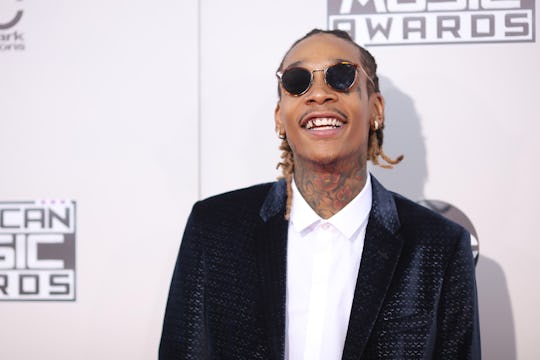 Mark Davis/Getty Images Entertainment
Memes From The Kanye West-Wiz Khalifa Twitter Feud Show People Seriously Enjoyed It
Kanye West may be busy trying to release an album, but that didn't stop him from partaking in some beef. On Wednesday, West and Wiz Khalifa got in a Twitter war over his album Waves and it wasn't pretty. But adding some levity was the Twittersphere, which quickly crafted some memes from the West-Khalifa feud.
As Drake would describe, trigger fingers turned into Twitter fingers after West announced that Waves would drop on Feb. 11. Waves? Yes, you heard right. West changed the name from Swish to Waves for reasons unknown.
And the name change would've went without a hitch if it wasn't for Khalifa's commentary. "Please don't take the wave," he tweeted Tuesday. He shortly followed up. "Max B is the wavy one. He created the wave. There is no wave without him."
In case you're unfamiliar with Wiz references, TMZ reported that "Waves" is a term for a specific style of music by rapper Max B, who is serving a 75-year sentence for robbery. Using the term for the title of his album was offensive to Khalifa, who thought West should credit the Harlem-based rapper if he was going to jock the saying.
West had plenty to say about Khalifa's unsolicited demands on Wednesday in 17 tweets to Khalifa. "You let a stripper trap you," West tweeted, taking shots at Khalifa's ex-wife, Amber Rose. And though it started out was a conversation about his music, West later made the argument personal. "I know you mad every time you look at your child that this girl got you for 18 years," he continued, according to The Sun Times.
Though West's rant somehow devolved into complimenting Khalifa (maybe sarcastically?) about his pants (#Wizwearscoolpants), he came to his senses and deleted the tweets, mentioned that Waves is a gospel album, and apologized. You can't make this up.
But the damage was already done — the internet was watching the whole thing and people were doing anything but staying out of it. And though the two rappers deleted the offending tweets and stopped with the back and forth, the peanut gallery's input was sprawled all over the Twittersphere. Here are some West and Khalifa memes that added some humor to the drama: