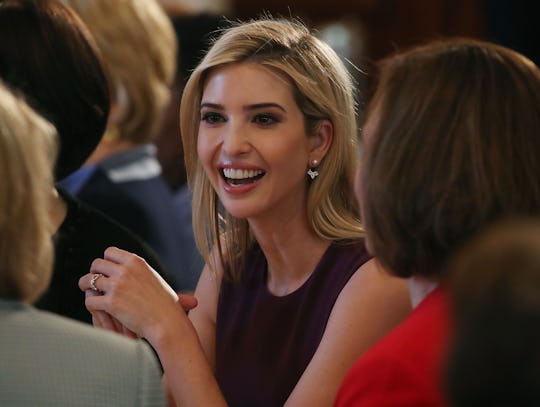 Mark Wilson/Getty Images News/Getty Images
Memes & Jokes About Ivanka's Neighbor Are Too Great
Hundreds of LGBTQ protesters held a "dance party" protest outside Ivanka Trump's home in Washington D.C. on Saturday to protest her father, President Donald Trump's, policies and latest political actions on climate change. In particular, last week President Trump signed an executive order that rolled back former President Barack Obama's efforts to tackle climate change, and the "party" was organized partially in response to that. It doesn't appear that Ivanka was home during the event, but a neighbor of hers was — and the Internet thinks she was having a pretty good time. There are a bunch of "Ivanka's neighbor" memes and jokes floating around Twitter that will make your day — a welcome respite from the mostly negative political news out of Washington lately.
According to The Independent, protestors waved rainbow flags and signs about the "first daughter," at the party, and danced a path down the streets of D.C. before gathering outside her home. "Chants of 'Ivanka come dance!' and 'complicit' could be heard as activists danced on top of cars to blaring pop music," that outlet reported.
The event was supposed to "send the clear message that our climate and our communities matter," according to a page for the event on Facebook, "Queer Dance Party for Climate Justice at Ivanka Trump's House!"
According to People, reports seemed to suggest Ivanka wasn't home during the party — but a neighbor who came outside her home to watch the protest has turned into an instant meme. Wearing a fur coat and sipping a glass of wine, the woman smiled as she watched the revelers/protestors in front of her house.
The Daily Mail snapped the picture of the neighbor — who was identified by New York Magazine's The Cut as Dianne Bruce — smiling as she witnessed the festivities from her front steps. Her reaction to the event has made her a viral sensation, and Twitter is loving it.
"The neighbor watching the LGBT protest in front of Ivanka Trump's house while drinking white wine is definitely invited to gay brunch.," said writer Gabe Ortíz.
And @OMG_ItsKhairy tweeted, "Ivanka Trump's neighbor just unlocked a new level of petty we didn't even know existed"
@K_Dimitroff1 related to the woman, tweeting, "Ivanka Trumps neighbor watching protestors outside of her house is literally my spirit personified"
Twitter user @YungKundalini put the neighbor on her list of #goals, tweeting, "The look of pure Caucasian bliss on Ivanka Trumps neighbor's face as hundreds of protesters take to her yard is my summer goal 😂#Joanne"
And though the Daily Mail reported that, "one of her neighbors became so infuriated by the noisy event that he was filmed threatening to punch a demonstrator," the event appeared to be mostly peaceful and festive in nature. That gleeful spirit lived on in tweets about Ivanka's neighbor.
"Ivanka Trumps neighbor wearing her finest fur and sipping wine while watching protests erupt....Iconic," tweeted writer @d_miller47.
And VICE Senior Staff Writer Mitchell Sunderland summed up the moment succinctly, tweeting, "Je Suis Ivanka's Petty Neighbor."
These memes about Ivanka's D.C. neighbor may brighten our days in the midst of some pretty dark political news as of late, but it's important to remember the issue at the heart of this protest.
As the Facebook event for the "dance party" stated, "the Trump administration passed an Executive Order rolling back environmental regulations and slashed funding to the EPA, essentially halting the Federal progress the US has made in slowing the pace of climate change and on promoting clean energy."
If you're concerned about the Trump administration's policies against environmental regulations and climate change action, dancing to take a stand is fun, but it's not enough. Contact your representative here and let them know they need to speak up and stand against these dangerous actions.