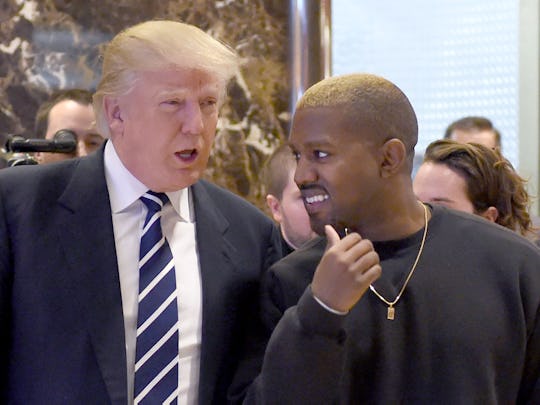 TIMOTHY A. CLARY/AFP/Getty Images
Memes Of Kanye's Trump Tower Visit Prove Fans Aren't Too Impressed
On Tuesday, rapper Kanye West made another surprise public appearance when he visited President-elect Donald Trump at the Trump Tower in New York. While West has publicly supported Trump before, the meeting still came as a surprise to many fans, especially since West has been laying relatively low since his recent hospitalization. Memes of Kanye's Trump Tower visit also show that not all fans were impressed by the surprise meet-up.
According to The New York Times, neither Trump nor West said much about their meeting. "He's a good man. We've been friends for a long time," Trump told reporters in the Trump lobby. When asked what topics he discussed with the Life of Pablo star, Trump responded, "Life. We discussed life."
West had even less to say about the surprise get-together. Among other questions, reporters asked if West would be performing at Trump's inauguration in January and if he still intended to run for president in 2020. "I just want to take a picture right now," West responded.
This isn't the first time West has shown support for Trump. During a concert in November — the last one he performed on his Saint Pablo tour before canceling all remaining tour dates — West told the audience that he hadn't voted, but if he had, he would have voted for Trump. Still, after West was hospitalized at the end of November for exhaustion, some fans apparently thought he would slow his Trump train once he was released and focus mainly on music and fashion once again.
Judging by the Trump Tower meeting, however, that doesn't seem to be the case. Luckily, fans channeled their frustration into creating hilarious memes. Here are a few of the best:
Jason Miller, the communications director for Trump's transition team, told the Daily Beast that West and Trump met because Trump was "going to be president for all Americans." He reportedly said Trump was interested in forming "coalitions" and wanted to "reach out to people both from traditional and nontraditional political viewpoints."
Trump's meeting with West came after the president-elect canceled a Wednesday press conference on how he would separate himself from his Trump Organization business during the presidency. According to Bloomberg, the meeting was postponed until sometime before Trump's inauguration in January. In a tweet, Trump simply promised to hold a press conference "in the near future" to discuss "the business, Cabinet picks and all other topics of interest."
And who knows? Maybe at that press conference, Trump will also announce an upcoming West performance at his inauguration. But for the time being, the topics discussed during their 15-minute meeting will remain a mystery — and the subject of many memes.