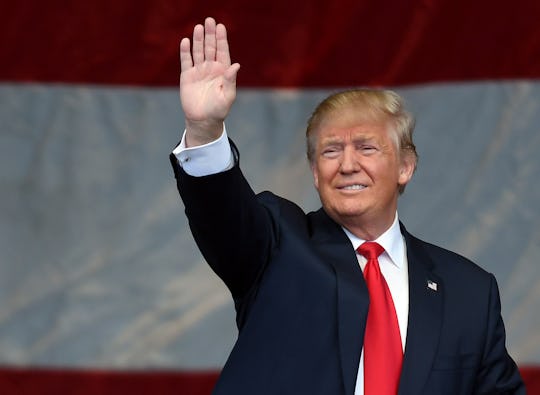 Ethan Miller/Getty Images News/Getty Images
Memes & Tweets About Donald Trump's Comments To Billy Bush Show He's In Trouble
The unexpected happened on Friday night when The Washington Post released a video from 2005 of Republican Party presidential nominee Donald Trump making lewd comments about women with Access Hollywood host Billy Bush. The video shows Trump making statements about kissing women and objectifying their bodies. In light of a heavy situation, the memes and tweets about Donald Trump's comments to Billy Bush shows that the comments are not sitting well with people — for a good reason.
The video is a wild ride with a lot of different aspects to it — aspects that some might even find comical. In one part of the video, Trump describes trying to make the moves on a married woman by taking her furniture shopping. In another part, Trump consumes tic tacs before meeting actress Arianne Zucker, "just in case he starts kissing her." It is a video that will make anyone who watches it pretty uncomfortable — the comments are unpleasant in their sexually charged manner. It is unnerving to know that a man who is trying to become the President of the United States said these things about women, just before putting on a friendly act for Access Hollywood cameras. But given that this is 2016 — people have turned to Twitter, making memes and responding to the video's comments. The responses are kind of funny and all too true.
Most users were not surprised by the actions and comments from Trump. This is definitely not the first time that he has made comments that can be considered demeaning towards women. In the past, Trump loved making appearances on "The Howard Stern Show" where there was no subject — especially the topic of women — that was out of bounds. These comments are not out of character for pre-presidential campaigning Trump. However, the video does not portray Trump in a good light. At a time where every public statement by each candidate is criticized and closely watched by the public, this video is not a good look.
Billy Bush, the other man talking to Trump in the video, is a TV host. Bush had hosted Access Hollywood for a number of years before recently joining The Today Show as an anchor in May. Bush made headlines this August when he obtained Olympic swimmer Ryan Lochte's first interview after reports were made that Lochte had been "robbed at gun point" during a night out after the 2016 Rio Olympics. Lochte's claims during his interview with Bush were proven false a few days later. One of the most ironic things about this video's release during the 2016 presidential election is that Bush has presidential ties. According to The Washington Post, Billy Bush is the nephew of former president George H.W. Bush and is the first cousin of former president George Bush and 2016 Republican Party primary candidate, Jeb Bush.
Responses to the video simply show that Trump's mouth has gotten him in trouble yet again.