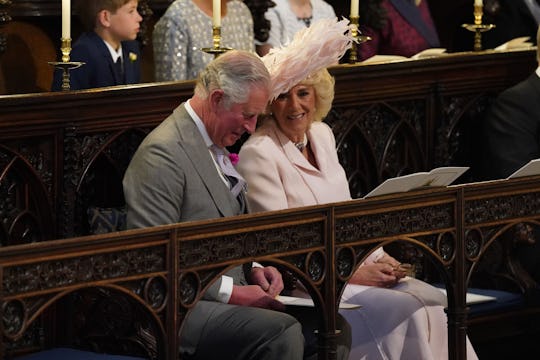 WPA Pool/Getty Images Entertainment/Getty Images
Memes & Tweets About Duchess Camilla's Hat Show Twitter Has A Sense Of Humor
A royal wedding is always going to be a high-profile event, and that certainly makes it important that guests ensure their fashion game is on point. Yet, as Princesses Beatrice and Eugenie unfortunately learned the hard way at the 2011 wedding of the Duke and Duchess of Cambridge, the public isn't particularly forgiving of those who make a misstep. Camilla, the Duchess of Cornwall, arrived at the royal wedding with her husband, Prince Charles, the Prince of Wales, dressed in a light pink day dress, with a large, pink, feathered hat. But memes and tweets about Duchess Camilla's hat show that social media was divided about the look — and that they're still rather divided about Camilla herself.
Though, to be fair, some did think Camilla looked lovely (and she definitely followed the dress code calling for day dresses and hats for women), many couldn't help but poke fun at the duchess, primarily because her hat was so, well, extra. Royal weddings, of course, are the perfect time to bring out a statement hat or fascinator, but even then, there are etiquette rules to follow. Bridal hat and accessory designer Genevieve Foddy told Bridal Pulse that "traditional British etiquette guides recommend that a traditional medium- to large-sized hat be worn," but on social media, some users felt that Camilla may have taken that guideline to the extreme.
It does seem though, that perhaps some of the criticism comes from those who have lingering feelings about Camilla marrying Prince Charles, and particularly that she's attending events like Prince Harry's wedding when Princess Diana is not there:
If there was one thing about the wedding though that may have upstaged Camilla's hat, it was her reaction to the pretty unorthodox ceremony — particularly the sermon given by American bishop, the Most Reverend Michael Bruce Curry. Though Curry's address won him tons of applause from those watching the wedding at home, his passionate and relatively casual style (at least by royal standards) seemed to catch Camilla, and other royals, a bit off-guard.
The one difference? While most seemed at least somewhat capable of hiding their reactions, Camilla's seemed to be pretty obvious:
As entertaining as that unexpected moment may have been though, it's pretty clear that Markle and Prince Harry were pretty set on doing things their own way when it came to their wedding, and they certainly appeared overwhelmingly happy and in love:
But even though there may still be those who aren't big fans of Camilla, she's clearly a big part of Prince Harry's life — and now, of Markle's too — and it seems safe to say that their wedding likely meant a lot to her, even if it may not have been exactly what she was expecting. In other words? She may have worn a gigantic hat made of feathers, and was unable to make it through the entire ceremony without laughing, but hey, she's family. And at least she gave the world plenty of entertaining meme fodder.