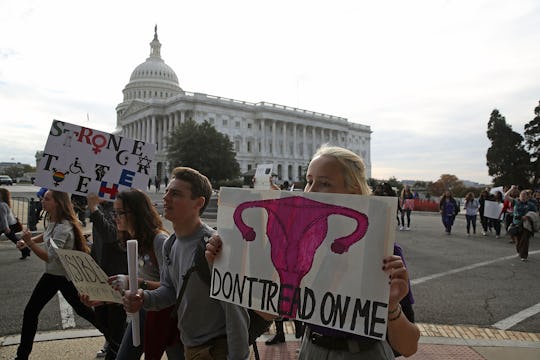 Mark Wilson/Getty Images News/Getty Images
Merch That Benefits The Women's March & More
In just a few days, hundreds of thousands of people will come together in Washington, D.C. for a major event. No, it's not for President-elect Donald Trump's inauguration, but for the massive rally for fundamental human rights happening the day after, the Women's March on Washington. Those looking to show their support with some merchandise that benefits the Women's March and other women's rights organizations have plenty of options, although be warned that the merchandise might not arrive in time for the march itself.
Of course, the easiest place to buy merchandise supporting the Women's March is on the official website for the event, which has plenty of sweatshirts, T-shirts, hoodies, and even onesies (for the politically-active babies in your life), all with the official logo of the march. The proceeds go to the march itself, which is an expensive endeavor given that organizers have to pay for, among other things, private security personnel to supplement the police presence, bus parking fees, and, of course, a massive amount of port-a-potties. However, keep in mind that, according to a note on the website, any apparel purchased now will not arrive in time for the March itself, so if you're looking to proudly wear your merchandise on January 21, you may want to look at some of the other below options.
If you're willing to pay a huge shipping bill, you can head over to the Planned Parenthood website, which is selling a few different options for Women's March shirts. They've got express shipping, including an overnight option, and the proceeds go to an amazing organization that is facing an uncertain future under this new administration.
Another great option for merchandise that benefits Planned Parenthood is this simple, but adorable "Nasty" bracelet from Stella & Bow (you know, in honor of the OG Nasty Woman, Hillary Clinton), which will donate 100 percent of the proceeds to the women's health organization:
To help out another worthy, March-related cause (while acquiring some sweet, sweet feminist swag), head on over to The Outrage, which has a ton of options and is using the proceeds to help provide transportation to the March for women with limited financial means. The website notes that orders may not arrive before the March at this point, but the company also has a physical store in Washington, D.C. at 2439 18th Street, NW, in case you get to the city early and want to pick something up in person.
Finally, the organization My Sister, which uses proceeds from its t-shirts to help fight sex trafficking, has plenty of March-worthy feminist merchandise available on its website:
And hey, at least even if your merchandise doesn't arrive in time, you're still supporting a good cause. Plus, you can always make a sign fit for a nasty woman to carry while you're marching instead. (Just make sure it doesn't have a wooden handle on it, since that's against security protocol!)