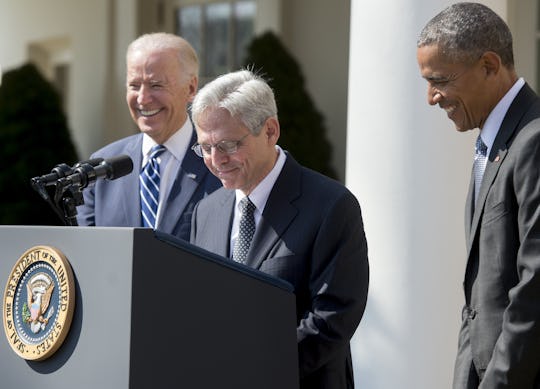 SAUL LOEB/AFP/Getty Images
Merrick Garland Cried During His Nomination Speech & It Was A Humble Moment
President Barack Obama, as promised, made his Supreme Court nomination and the choice is pure perfection. Obama nominated Merrick Garland, a man who, by even the most conservative standards, is wicked smart and has spent his entire career serving our country with impeccable integrity. Putting politics aside, Obama is betting Garland's tried-and-true record of service will be enough to persuade Senate Republicans to give his Supreme Court nomination a vote. Obama nominated a distinguished American legal mind, sure, but this powerful, American is one of us, too. Judge Merrick even cried during his nomination speech, showing how much the honor of being nominated for the position means to him.
Politics experts have been wagging tongues for weeks trying to guess who the choice would be. Super popular Senate "it" lady Massachusetts Sen Elizabeth Warren? Would Obama go rogue and nominate Vice President Joe Biden? Would he go with a completely random celebrity-ish choice to try and woo public support with a famous, beloved face? Not even close. Obama is putting politics aside by simply nominating the very best candidate he could find. Several key Senate Republicans have already voted to confirm Garland to the D.C. circuit court. And with good reason.
First, Obama delivered one of his signature introductions of Garland, painting him as hybrid judge-saint, Perry Mason-meets-Mother Theresa figure as the opening salvo in his P.R. offensive to get a final Supreme Court nominee through before his term ends in less than a year.
"To find someone with such a long career in public service, marked by complex and sensitive issues, to find someone who just about everyone not only respects but genuinely likes, that is rare," Obama said from the White House Rose Garden, according to the Washington Post. "And it speaks to who Merrick Garland is, not just as lawyer but as a man."
Then, Garland took the podium and delivered a speech that unbelievably lived up to the gushing Obama intro. Breaking into tears, he described his parents, who came to America fleeing Russia and anti-Semitism. And he thanked his mother, sisters, wife, and daughters. His dad Cyril died in 2000, but Garland said he wished his father would have lived to see his son nominated to the Supreme Court.
In one speech that only lasted a handful of minutes, Garland showed a humanity and humility that's so desperately missing from our conversation these days. And for those of us of the female persuasion, he left little room for doubt of his regard for women in his description of the ladies who make up his closest family members. We got just as clue about how fierce they also happen to be as he confessed his older daughter, Rebecca, wasn't there at the nomination Wednesday because she was hiking in the wilderness out of cell phone range. He opened his speech saying the nomination was the "greatest honor of my life" besides his wife agreeing to get married.
The Garland women are all pretty extraordinary. Garland's wife Lynn is a graduate of MIT and Harvard and works as a defense contractor. His daughters, Rebecca — who's off in the wilderness somewhere missing all the hoopla — and younger daughter Jessica, who was there sitting next to her mother, both graduated from Yale. Jessica is a social justice activist and now attends graduate school at Cambridge.
Here are his wife and younger daughter, Jessica, watching Garland's emotional remarks.
Garland is widely regarded as a moderate, who was even praised by hardcore conservatives Utah Sen. Orrin Hatch and Iowa Sen. Chick Grassley during his 1997 confirmation hearings for the D.C. Circuit Court.
But that might not be enough to even get Garland a vote in the Senate for confirmation, as Republicans have vowed not to vote on a Supreme Court nominee to replace conservative Supreme Court Justice Antonin Scalia. It's up to Garland, who will now, according to the president's remarks today, visit Capitol Hill to answer questions and carry Obama's message that the Senate's refusal to vote would be both a shirking of their Constitutional responsibility and damaging to democracy. Obama, a Constitutional scholar himself, laid out his argument in no uncertain terms during his announcement of Garland's nomination.
But, even as Garland faces an uncertain path to the Supreme Court, two things are for sure: he's more than qualified for the job, and the nation would be served by having such mensch on the bench.