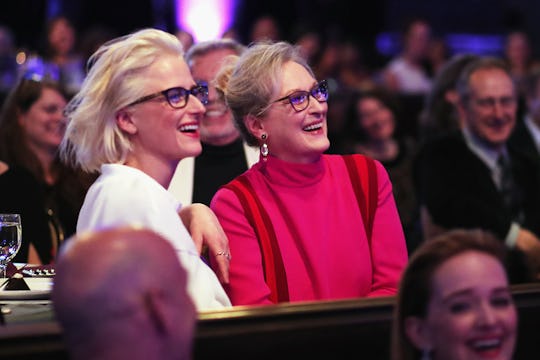 Christopher Polk/Getty Images Entertainment/Getty Images
Meryl Streep Is Going To Be A Grandma For The First Time, & Fans Are So Excited
It looks like congratulations are in order for one high-profile celebrity and her daughter. Because in addition to "award-winning actress," someone will soon be earning a brand new title: Grandma. As it turns out, Meryl Streep is going to be a grandma for the first time, as her daughter Mamie Gummer announces she's pregnant. Gummer's representative, Alissa Vradenburg, confirmed the news to USA Today on Sunday.
For those who aren't familiar with Streep's family tree, Gummer, 35, is also an actress and is Streep's eldest daughter (and second-eldest child, overall.) Streep and her husband, Don Gummer, have three other children together: Henry, 39, Grace, 31, and Louisa, 27, according to Us Weekly. Gummer appeared in The Good Wife, among other projects and movies in recent years. The mom-to-be also starred alongside her famous mother in the 2015 movie Ricki and the Flash.
While it's true that Gummer's little boy or girl will be Streep's very first grandchild IRL, she has had a bit of "practice" in this particular role during her career. Back in 2015, Streep portrayed the character Violet in August Osage County, according to USA Today. And she will be starring as Mary Louise Wright — the grandma to Celeste's sons during the second season of HBO's Big Little Lies. Whether or not this "experience" translates to her literal role as a grandmother, I'm confident Streep will totally rock the part. (You know, just as she does with everything else.)
Gummer and her fiancé/father of the baby-on-the-way, Mehar Sethi, got engaged in August in Croatia, according to InStyle — although not very many details about their relationship, aside from this information, are known. Then again, Streep has remained private about her personal life through the years. So this isn't exactly a surprise.
A number of Meryl Streep fans took to Twitter to react to the news of her impending grandmother-hood. One person tweeted, "if this is true and mamie gummer is having a BABY THEN MERYL STREEP WILL BE A FIRST TIME GRANDMA can you hear me sobbing quietly."
Another Twitter user wrote, "Don't talk to me unless you wanna talk about the fact that Mamie Gummer is pregnant and that Meryl Streep is going to be a wonderful grandma."
Yet another person chimed in with, "Mamie Gummer is officially becoming mother and Meryl Streep is officially becoming grandmother in the coming months. I'm so happy for them," along with a sobbing emoji.
Clearly, fans are super stoked to hear that Meryl Streep is soon going to be a grandma. Although I'm still firmly in the non-grandma camp (my oldest is only 7) I hear it's got all of the perks of parenthood — loving and doting on an adorable child who is related to you — but with hardly any of the work. You know, such as discipline, being in charge of another person's wellbeing around the clock, and being held responsible for them turning into a decent adults. (So it sounds like a pretty sweet deal, to me.) Congrats to Streep and Gummer on this happy news!