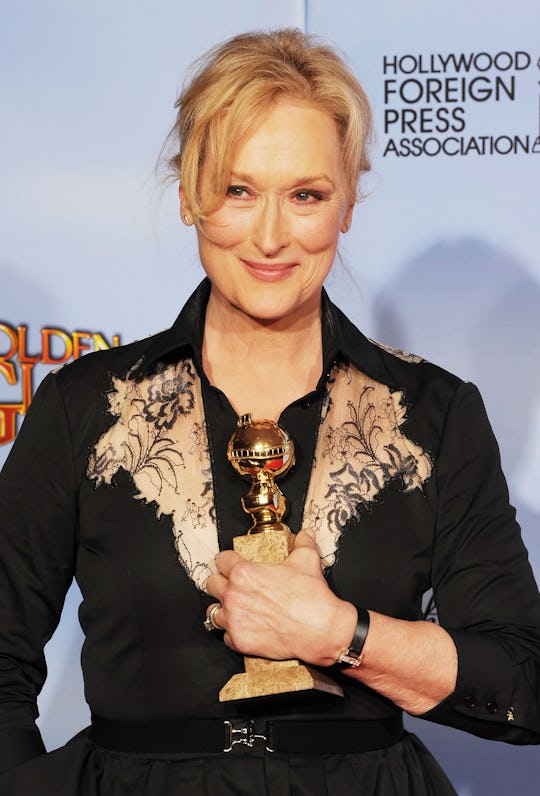 Kevin Winter/Getty Images Entertainment/Getty Images
Meryl Streep Will Get The Golden Globes Lifetime Achievement Award, & Twitter Is Thrilled
Meryl Streep is undoubtedly one of the most talented actors of our time. At the very least, she's one of the most accoladed. In roles from serious dramas and biopics to more light-hearted comedies, Streep holds the record for most Academy Award and Golden Globe nominations ever, among a series of other titles. She's only one Oscar away from tying the all-time leader, Katharine Hepburn. Now, the prolific actress will get an award-to-end-all-awards – Meryl Streep will receive the Golden Globes Lifetime Achievement Award, and Twitter is celebrating.
Streep is one of those actresses who can do no wrong in the public's eyes. She's consistently astounding in her many roles, surprising no one when she garners nomination after nomination simply for showing up. Of course, for Streep, "just showing up" automatically equates to giving it her all. There's no off switch for her.
With a stunning eight wins and a staggering 29 nominations, Streep has already been the belle of the Golden Globes ball for years now. On three separate occasions (2002, 2008 and 2009) she was even honored with multiple nominations for separate roles in the same year. Given all this, it's really no surprise that Streep was chosen as the recipient of this year's Cecil B. DeMille Award, the honorary accolade from the Hollywood Foreign Press Association (HFPA) for outstanding contributions to the world of entertainment named for its very first recipient, the director Cecil B. DeMille.
The HFPA made their big announcement on November 3, and people are already really excited to hear Streep's acceptance speech. She's basically a pro at acceptance speeches by now, so there's a lot to look forward to.
Streep follows last year's honoree Denzel Washington, who took home the award at the 73rd Golden Globe Awards ceremony.
Amazingly, there's a solid chance that Streep could get her thirtieth nomination at the same ceremony. According to the HFPA's timeline, nominations for the 74th Golden Globes ceremony are set to be announced on December 12. Her performance as the title character in Florence Foster Jenkins – her sole performance in a film this year – received plenty of awards buzz. It won't be too shocking to see Streep's name on the Best Actress ballot yet again.