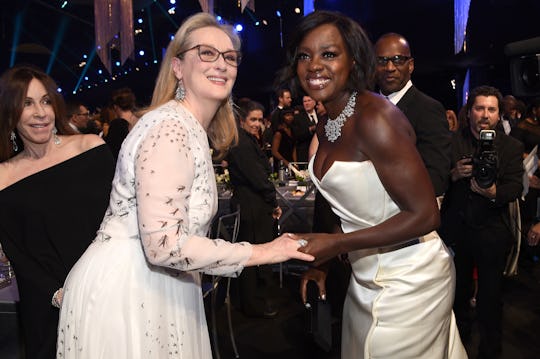 Kevork Djansezian/Getty Images Entertainment/Getty Images
Read Meryl Streep's Perfect 'TIME' Ode To Viola Davis
For the better part of a decade, acting powerhouses Viola Davis and Meryl Streep have been building a beautiful, supportive friendship. The legendary actors often give each other public accolades for their work on screen and regularly hug it out after award wins. So when TIME magazine named Viola Davis as one of the 100 people who most influenced our culture last year, it made sense to have Meryl Streep — who could both recognize Davis's incredible talent and the personality she brings to her work — talk about her place on that famed list. The bio Meryl Streep wrote for Viola Davis' entry on TIME's 100 Most Influential People List is honestly perfect. In an industry that so often pits the talents and positions of women against each other, this bond between titans is lovely to see.
Davis and Streep have been friends since they met in 2008 on the set of Doubt, according to Vanity Fair. They didn't share much screen time, but Davis's performance during their single eight-minute scene was powerful enough to earn her a Screen Actors' Guild award. When Streep took the stage to accept her own SAG award for Best Actress that year, she called Davis out as "gigantically gifted" and urged her colleagues to take notice and "give her a movie!"
The short story is that Hollywood, moviegoers, producers, and television viewers did take notice of Davis's enormous talent. For her award-winning performances on stage, in film, and on television — including roles in the ABC television series How to Get Away With Murder, the Broadway productions of King Hedley II and Fences, and the 2016 film adaptation, Fences — Davis earned her star on the Hollywood Walk of Fame last January. She also achieved the lauded Triple Crown of Acting this year, becoming the first African American to snag an Oscar, a Tony, and an Emmy for acting.
Davis has spoken about her family's struggles with poverty during her childhood, and how her parents' and grandparents' experiences shaped how she approaches the characters she takes on — from Aibileen in The Help to Rose Maxson in Fences. In TIME, Streep praised Davis's ability to draw on those experiences to breathe life into her performances, and applauded her "hard-won" rise to the top of their profession:
Viola has carved a place for herself on the Mount Rushmore of the 21st century—new faces emerging from a neglected mountain. And when she tells the story of how she got from where she was to where she is, it is as if she is on a pilgrimage, following her own footsteps and honoring that journey.
Her gifts as an artist are unassailable, undeniable, deep and rich and true. But her importance in the culture—her ability to identify it, her willingness to speak about it and take on responsibility for it—is what marks her for greatness.
Streep also noted Davis's place as an icon for women of color and an example of "the high-wire rewards of hard work and a dream, risk and faith."
This is actually the second time that Davis has been honored as a cultural icon by TIME — and by one of acting's greatest legends. In 2012, Viola Davis appeared on TIME's 100 list just after earning an Oscar nomination for her performance in The Help. Her co-star and mentor Cicely Tyson penned her bio that year, calling Davis "a serious and soul-stirring actress" whose "rich body of work represents the full range of our humanity."
For fans of Davis's work, the beauty in Streep's and Tyson's words is that they're exactly right. Davis is an icon by any measure. And that she has surrounded herself with women who are not only leaders of their industry, but truly supportive colleagues and friends should be applauded, too.