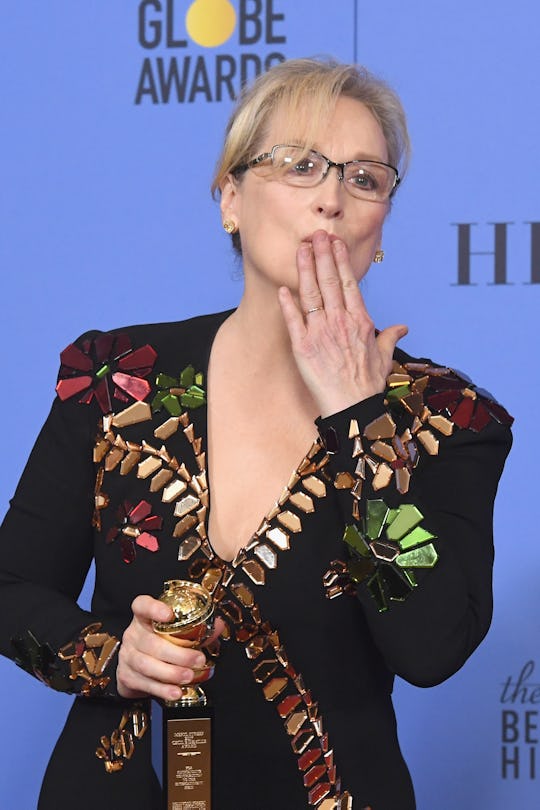 Kevin Winter/Getty Images Entertainment/Getty Images
Meryl's Reaction To Her Oscar Nomination Is Gold
With multiple awards show nominations to her name, accepting accolades is familiar territory for Meryl Streep. She's spent nearly forty years collecting nominations and wins, providing gracious statement after gracious statement and heartwarming speech after heartwarming speech. Perhaps that is why she chose to shake it up after receiving her twentieth Oscar nomination for Best Actress for Florence Foster Jenkins. Her response was unexpected, but Meryl Streep's Oscar nomination reaction is definitely the best thing you'll see all day.
Meryl Streep responded with a gif. A gif! Arguably the greatest actress of her generation, and perhaps one of the best actresses of all time, responded to her historic twentieth Oscar nomination with a gif. In her choice of reaction, Streep proved herself not only an expert at acting but an internet artiste as well, because her gif seemed to sum up her feelings perfectly. While any gif would have been hilarious simply because of the context, the one Streep chose was basically perfect: it was a gif of her dancing around in pure joy. A Paramount publicist supplied a brief explanation: "Please find the following GIF as a statement on behalf of Meryl Streep."
Beautiful. It's just beautiful. Behold the gif in question:
But where did this magnificent gif of Meryl come from, you might ask? Despite the fact that Streep is celebrating an acting win, the gif isn't actually from any of her movies. It's from the music video for Paul McCartney's "Queenie Eye," which is packed with celebrity cameos. Alongside Streep are Chris Pine, Jude Law, Kate Moss, Tracey Ullman, and Tom Ford, among countless others, but her dancing truly takes the cake. Slide on over to 3:27 in the video's runtime to see Streep in action.
So far, Streep has won three Oscars out of her twenty nominations, for Kramer vs. Kramer, Sophie's Choice, and The Iron Lady. In Florence Foster Jenkins, she plays an heiress who dreams of opera stardom despite not having a lick of talent and ends up winning over audiences even though her voice is awful. The film is based on the real life woman of the same name, whose story also saw a more fictionalized French adaptation in 2015's Marguerite.
If Streep wins, maybe instead of an acceptance speech, she'll just choose another perfect gif to explain exactly how she feels. With an Oscar career as incredible as hers, she might as well make history once again by being the very first person to ever accept an award with a gif.