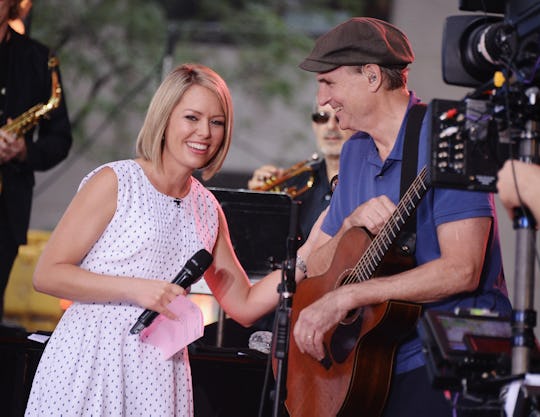 Stephen Lovekin/Getty Images Entertainment/Getty Images
Meteorologist Creates Hilarious DIY Breast Milk Bottles
There are many fears for moms returning to work after maternity leave. Worrying about how you'll continue to bond with your baby, and staying on top of work and a baby is stressful, and frankly, sometimes you just can't be on top of it all. And for breastfeeding moms going back to work, there is even more on their plates, including figuring out how they will pump at work. That struggle was captured by NBC meteorologist Dylan Dreyer, who posted on social media about how she forgot to bring breast pump bottles to work.
Dreyer gave birth to her son Calvin on Dec. 17, People reported. She returned to her job just this week from maternity leave. But on Friday morning, Dreyer realized she forgot something: bottles to put her breast milk in. But that didn't stop her from pumping. Instead, she grabbed two plastic coffee cups and pumped milk into each one. Next to the cups was a bottle of water, which Dreyer likely planned to use to store the milk in the refrigerator, and a bottle of hand sanitizer, because obviously you want your hands to be as clean as possible when handling your baby's food.
Dreyer took to Instagram to share her solution. She captioned the photo: "When you forget bottles to pump into, you improvise. Hey... I'm proud of myself for making it to Friday before this happened!"
People commented on the post to applaud her creative solution.
"Isn't it amazing how the whole pumping process has not been made easier yet — from uncomfortable and clunky devices to not enough space/tables/ seating in public bathrooms," theshowandtell commented.
Another woman who had been in that same situation shared her own solution: "Good thinking, I ended up making an emergency call to my mom who brought some to my work, haha!! Lesson learned," ash_rutledge wrote.
Another user worried Dreyer might spill some of the milk, adding that "Spilled breast milk is definitely worth crying over."
Dreyer has been open about her experiences with breastfeeding before. She told the Today Show that her son has a healthy appetite, and has referred to herself as a "human cow."
Dylan's experience is one of many examples of what working moms go through to breastfeed. The Huffington Post captured the struggles some breastfeeding moms have had to face to pump milk at their workplaces. The stories would make any new mom cringe. One woman who worked at McDonald's could only pump in the restaurant's public bathroom; another who worked in a rehabilitation facility was constantly interrupted by pages from her manager. These experiences are despite federal laws protecting breastfeeding mothers' rights to pump in the workplace in a private setting.
Fortunately, Dylan's NBC coworkers seem very supportive of her new role as a mom as she returns to the workplace.