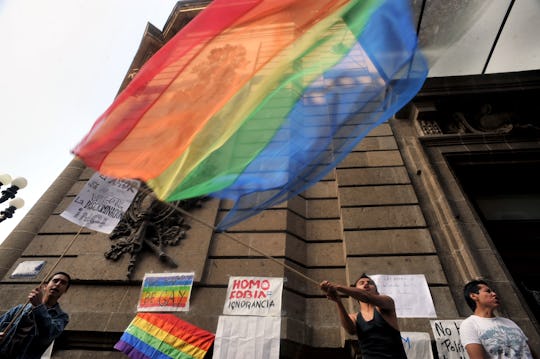 ALFREDO ESTRELLA/AFP/Getty Images
Mexico Set To Legalize Gay Marriage, Among Other Progressive Policies
In historic news on Tuesday, Mexican President Enrique Pena Nieto announced he would be signing reform initiatives that would legalize gay marriage throughout all of Mexico in the coming days. The move is the latest in a series of progressive revolutionary gestures within the traditionally conservative country, according to Reuters. Although same sex marriage has been legal in Mexico City since 2010, it wasn't until last year that Mexico's highest Supreme Court declared restricting marriage to one man and one woman was unconstitutional.
"Today, on the International Day Against Homophobia and Transphobia (in English IDAHOT), I met with representatives of LGBTI groups," Nieto wrote on his official Twitter account. "I listened to their ideas and proposals. I reiterated the commitment of the [Mexican government to] combat all forms of discrimination, including [discrimination against those of different] sexual preferences. I signed reform initiatives to [ensure that marriage equality] be written into the Constitution and the Federal Civil Code." He tagged his posts with the hashtag "#Sinhomofobia", which translates to "#Nohomophobia."
The Mexican president has made several bold changes in recent days, as his six-year term begins to turn the corner (Nieto first took office in 2012). Most recently, he signed a similarly progressive proposal which would relax marijuana laws significantly and increase the legal carry amount from five grams to 28.
Following last year's Supreme Court decision, which found bans on same sex marriage unconstitutional, many Mexican states refused to comply with the ruling. Nieto's proposal is an attempt to unite all the states under one legal umbrella and to end discriminatory practices across Mexican state lines.
According the The New York Times, if the proposal is accepted it will make Mexico one of only a handful of countries in the Americas that have legalized gay marriage. So far, that shortlist includes countries like Argentina, Uruguay, and Brazil, in addition to the United States, Canada, and Colombia. Ecuador currently allows for same sex civil unions, while places like Chile have allowed for civil union agreements since 2015.
By Tuesday afternoon, both Nieto and the Mexican government's official Twitter photos had been changed to include a rainbow filter and the hashtag #Sinhomofobia.
According to a report by the Associated Press, Nieto's proposal is an attempt to reform Article 4 of the country's constitution, "to recognize as a human right that people can enter into marriage without any kind of discrimination." Speaking at an IDAHOT event on Tuesday, the president said he intended "for marriages to be carried out without discrimination on the basis of ethnicity or nationality, of disabilities, of social or health conditions, of religion, of gender or sexual preference."
"For an inclusive Mexico," Nieto tweeted on Tuesday, "we need to recognize diversity. It is one of our major strengths."