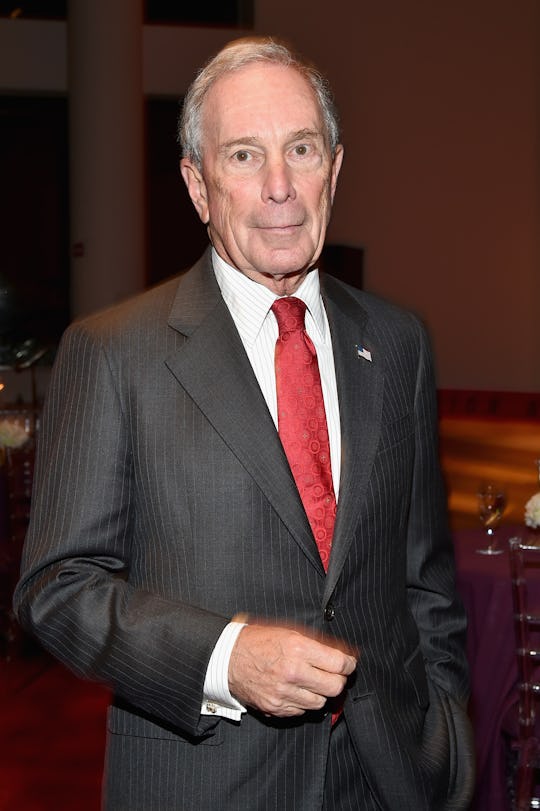 Mike Coppola/Getty Images
Michael Bloomberg Might Run For President & That Could Change Everything
In what would be a very interesting development, it looks like Michael Bloomberg is seriously looking into running for president this election. According to The New York Times, the ex- New York City mayor has told advisors and friends that he would spend up to $1 billion dollars on a campaign and is taking "concrete steps" to see if he could actually win. Bloomberg is an independent who could really shake up the entire field if he decides to run.
An anonymous source told CNN that Bloomberg would definitely jump into the race if it looked like Donald Trump or Ted Cruz would go up against Bernie Sanders. If Hillary Clinton were to get the Democratic nomination, Bloomberg might think differently, but her winning the nomination wouldn't preclude a bid from him.
According to the New York Times, Bloomberg has hired a consultant and conducted a poll in December about how he would fare against Donald Trump or Hillary Clinton. After the primaries in New Hampshire, he plans on conducting another round of polls, according to the paper. His aides say that he wants to offer voters "a non-ideological, bipartisan, results-oriented vision," that he believes is missing from this election cycle, Yahoo News reported. Already, people are sort of into the idea of him running:
If voters are turned off by the leading Republican candidates and still on the fence about Hillary Clinton or Bernie Sanders, Bloomberg could really tip the scales. No third party candidate has ever won the presidency and the last Independent to try was Ross Perot, in 1992, who ran against George Bush and Bill Clinton.
Bloomberg is best known as a businessman and for being a sort of policy wonk. He also tried to ban oversized sodas during his tenure as New York City mayor. He gets mixed reviews all the time.
So if you're into very small government, he might not be the candidate for you. But he's also a pragmatic, policy oriented kind of guy who knows how to work a budget. If he runs, leading candidates on both sides of the aisle should be a little nervous. A Bloomberg candidacy could work.
Image: Mike Coppola/Getty Images