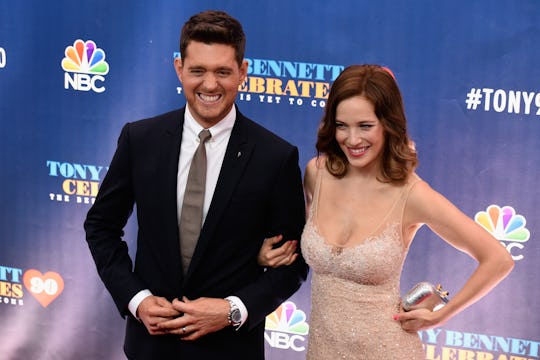 Matthew Eisman/Getty Images Entertainment/Getty Images
Michael Buble & Wife Luisana Lopilato Are Excitedly Expecting Baby Number 3
In November 2016, fans were devastated when Michael Bublé revealed that his young son had been diagnosed with cancer. They were likely disappointed, too, (but understanding) when the father of two indicated he would be stepping away from his singing career to be with family as his little boy underwent treatment. Although the "Haven't Met You Yet" crooner remained mostly out of the spotlight in 2017, Bublé recently announced that he will be making his big return to the stage this year. And now, he has some even bigger news to share. That's because Michael Buble and his wife Luisana Lopilato are expecting their third child — and fans couldn't be happier for them.
The couple's rep confirmed on Saturday that they are expecting baby number three, E! Online reported. And according to Us Weekly, Lopilato is about two and a half months along at this point. This big news follows pregnancy reports from Lopilato's native country, Argentina, as well as bump rumors from an Instagram photo she shared last week, according to the publication. (Apparently, any woman wearing a loose-fitting top is fair game for pregnancy speculation these days.) For those who need a refresher, Bublé, 42, and Lopilato, 30, are already parents to two sons, Noah, 4, and Elias, 2. So will this singer-dad and actress-mom be welcoming another little boy, or their first daughter, you ask? Unfortunately, you'll have to wait to find out; this information is still under wraps for the time being.
In November 2016, the couple revealed their oldest child, Noah, had been diagnosed with liver cancer, reported Us Weekly. Bublé took to his personal Facebook page to share the news — and to announce that he would be taking a step back from his career. "We are devastated about the recent cancer diagnosis of our oldest son Noah who is currently undergoing treatment in the US," he wrote. "We have always been very vocal about the importance of family and the love we have for our children. Luisana and I have put our careers on hold in order to devote all our time and attention to helping Noah get well." Bublé continued:
At this difficult time, we ask only for your prayers and respect for our privacy. We have a long journey in front of us and hope that with the support of family, friends and fans around the world, we will win this battle, God willing.
The following April, Lopilato confirmed that Noah's treatment had been successful, reported Today. Bublé followed up this news with a statement, released via Twitter. "We are so grateful to report that our son Noah has been progressing well during his treatment and the doctors are very optimistic about the future fo our little boy He has brave throughout and we continue to be inspired by his courage. We thank god for the strength he has given all of us."
After a year away from performing in order to be with his son during his cancer treatments, in November Bublé announced his big return for 2018 — a show at BTS Hyde Park in the UK, Billboard reported.
Clearly, the Bublé family has been on an emotional rollercoaster since Noah's diagnosis. So fans are understandably excited about the fact that another little one is on the way. "Congratulations my loves for the new baby that is coming," one Twitter user wrote. Another person tweeted, "If this is true what beautiful news for the family that have been through so much the last 2 years."
I can't imagine what Bublé and Lopilato have gone through as they've held their son's hand through his diagnosis and treatment. I'm so glad to see that little Noah is now cancer-free and that their family has yet another reason to celebrate. The couple is expected to make an official announcement sometime at the end of March, when Lopilato will be traveling to Argentina, The Sun reported. In the meantime, I invite you to pass the time by jamming along to some old Bublé videos. You're welcome.