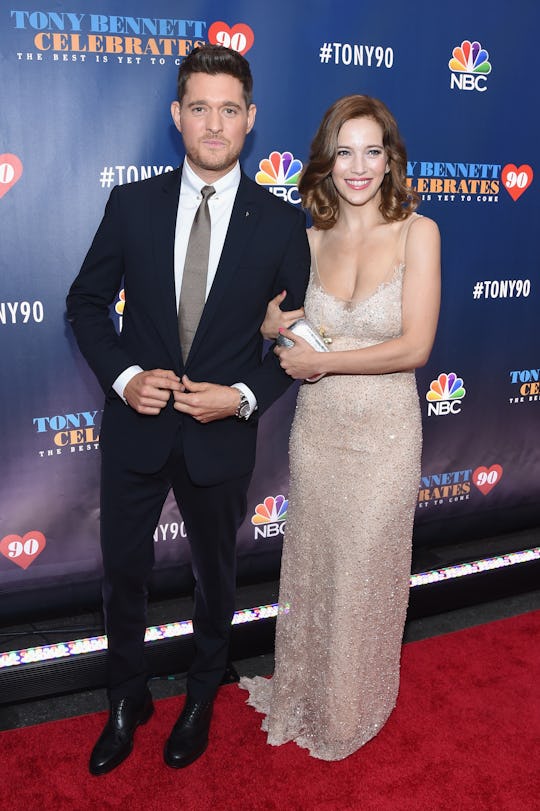 Larry Busacca/Getty Images Entertainment/Getty Images
Michael Buble & Luisana Lopilato Confirm Their Son Noah Has Cancer, & They Request Prayers
It's the kind of announcement no parent ever wants to make: Haven't Met You Yet singer Michael Bublé confirmed his son, Noah, has cancer on Friday. In a statement, he announced that he and his wife, actress Luisana Lopilato, would be taking a break from their respective careers to focus on their eldest son's treatment. They requested fans' privacy and prayers.
"We are devastated about the recent cancer diagnosis of our oldest son Noah who is currently undergoing treatment in the US," Bublé said in statement published on Facebook. "We have always been very vocal about the importance of family and the love we have for our children. Luisana and I have put our careers on hold in order to devote all our time and attention to helping Noah get well."
Bublé and Lopilato are parents to Noah, 3, and Elías, who will be 1 year old in January. The family reportedly split their time between Vancouver and Buenos Aires, so they will likely have to spend time away from home as Noah undergoes treatment.
Lopilato, who is Argentinian, shared Bublé's statement on her own Facebook page in Spanish. "At this difficult time, we ask only for your prayers and respect for our privacy," Bublé said. "We have a long journey in front of us and hope that with the support of family, friends and fans around the world, we will win this battle, God willing."
According to La Nación, Lopilato took a sudden trip to Los Angeles with Noah earlier this week, causing fans to worry. Lopilato's representative, Javier Furgang, told the Argentinian newspaper that doctors at first thought that Noah had mononucleosis, then changed their suspected diagnosis to mumps. The Bublé family has since clarified that Noah has cancer, but they have (understandably) refrained from providing further details.
"The truth is, we don't know what we're doing," Lopilato wrote for Canadian Living in 2014. She and Bublé had only welcomed Noah into their family the year before and were getting through their first year as parents. "We're just doing it. And we're doing it with love. It may get more complicated, but the best we can do is to love that little boy and surround him with laughter, light and happiness. He is the reason I was put on this earth, and I thank God for him every day."
As for Bublé, he talked to Entertainment Weekly about his sons just last month, saying:
I love them more than I'll ever love anything, or anyone in the whole universe. I think it gave me perspective on life that I think I very badly needed. It's hard to be able to quantify that level of love. I didn't even know that there was that color in the spectrum.
As soon as the news hit social media, fans sent their love and support in the Bublé family's direction. Here's to sending Noah, Elías, and their two loving parents all of the support in the world.