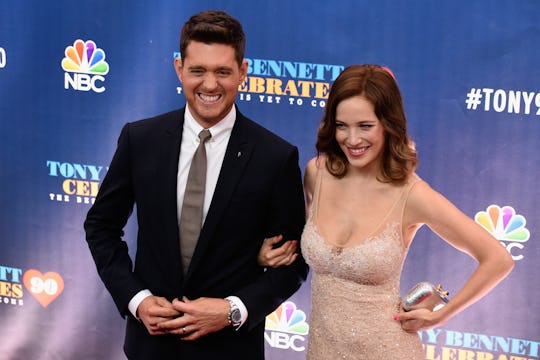 Matthew Eisman/Getty Images Entertainment/Getty Images
Michael Bublé's Son Is Recovering From Cancer
Contrary to popular opinion, being a celebrity doesn't always mean that one is immune to the perils of life's innate ability to change in the blink of an eye. As seen in Kim Kardashian's robbery in Paris, the unfortunate death of Kristin Cavallari's brother, and more, it's obvious that celebrities are just humans, suspect to all of life's unexpected cruelties. After Michael Bublé announced his son's cancer back in November, fans were again caught off-guard by the reality of life. However, months later, the family has opened up again: At last, Bublé and Luisana Lopilato's son Noah is doing "well" following that shocking cancer diagnosis last year.
In a recent statement at a press conference, Lopilato confirmed that 3-year-old Noah was responding well to treatments, and is doing "well." And though all of this information is still very new, and Bublé himself has remained quiet — save for updates he has shared on his Facebook account — Lopilato's recent comments are a welcome bit of encouraging news. After the family's announcement of Noah's illness, Bublé put an immediate hold on his professional appearances, and has not said anything else about Noah's battle since February. Luckily, after Lopilato returned to Argentina to get back to work, she updated the world on little Noah's progress, and informed fans that he was better.
According to E! News, Lopilato said:
Thank God, my son is well. When things like those that happened to us occur, your take on life changes. It happened to us. Now I value life much more, the now and the today. I would like to thank people for their support, for the prayers they said, for their love, and I want them to know that they reached us and that it helped us a lot to come through this.
Bublé himself has yet to say anything about his son's condition, although Lopilato mentioned that Noah's update was still relatively new, and therefore the couple has been "sensitive" about sharing the information.
"My son's recovery is a long process as you all know and he has to continue with check-ups," Lopilato continued. "But we are very happy. We are looking forward to thinking about the future, to seeing our children grow. Seeing Noah grow and being happy gave me the strength to return and finish this film."
And as Noah continues to get better, it's clear that his family will be standing by his side no matter what. Obviously, Noah is a fighter, and both of his parents are going to make sure he has whatever he needs to continue to kick cancer's butt.