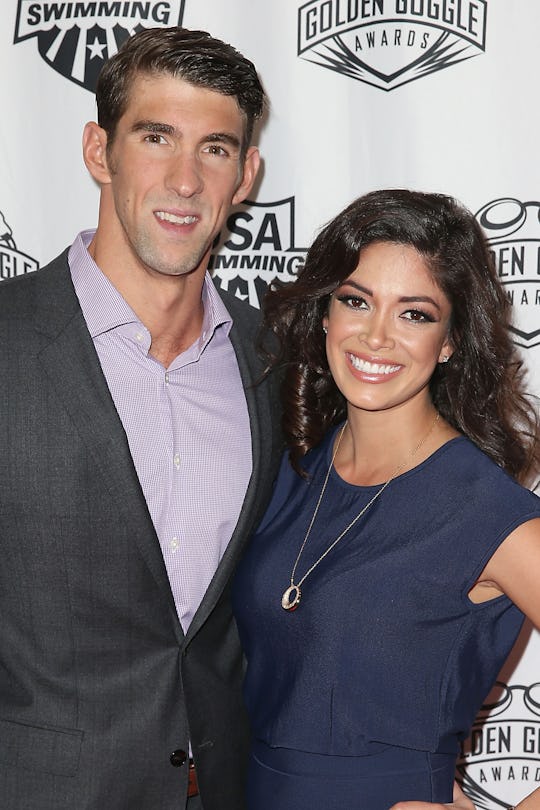 Joe Scarnici/Getty Images Sport/Getty Images
Michael & Nicole Phelps' Wedding Photos Are The Sweetest Things Ever
Michael Phelps and wife Nicole Phelps (neé Johnson) are good at keeping secrets. After months of pretending like they were engaged, last week, TMZ broke the news that the couple had secretly married in June. Michael then confirmed the news and finally revealing more details about the nuptials (thank god). Better still, Michael and Nicole Phelps' wedding photos, which the couple posted to Instagram on Sunday, are breathtaking — proving the wait to see the photos and learn about the news was well worth it.
Just a few days after TMZ broke the story about the couple's secret marriage, both Michael and Nicole took to their respective Instagram accounts to share one photo each from their wedding ceremony earlier in the summer — and the photos are stunning to say the least. Michael and Nicole must have some pretty trusting friends and family to keep their wedding such a huge a secret — because photos show that their June nuptials weren't exchanged in a backyard ceremony. No, Michael and Nicole's wedding was a full blown, beautiful affair — complete with bridesmaids, groomsmen and the whole nine yards.
In both photos, both Michael and Nicole are dressed to the nines, hand in hand, with the coast behind them — and they look absolutely radiant. "Truly the happiest day of my life," Nicole captioned her photo (she's since changed her Instagram account name to Mrs. Nicole Phelps as well — too sweet).
On Thursday, Michael took to Facebook Live to confirm the news about his marriage:
You guys probably already saw the article that was posted. I've been married for a while, been married for a while, couple months. I had to keep it secret from y'all. I had to keep it hush-hush from you guys. Nicole and I are married. We are officially married and now we're getting the chance to just kind of kick it and hang out now.
During the 2016 Rio Olympics just two months ago, where Michael collected his 23rd gold medal, the couple kept incredibly quiet about their marriage but were excited to talk about plans for their "upcoming wedding" — despite having already been married for two months. (Sneaky!) Michael was so secretive that even U.S. swimming teammate Ryan Lochte did not know that the couple was married during the Olympics. Why Michael would have to keep his marriage a secret from his fans is unknown. But it understandable for the couple — who celebrated the birth of their son, Boomer and multiple records during the Olympics this summer — to keep one small part of their lives to themselves.
Now that Michael is retired from swimming, maybe he should take up acting — because keeping a secret this big takes some serious skill.