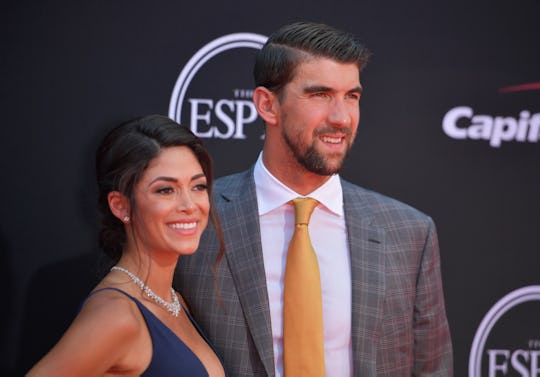 Matt Winkelmeyer/Getty Images Entertainment/Getty Images
Michael & Nicole Phelps Welcome Their Second Son, & OMG, His First Photo Is So Cute
Olympics fans may be in a Winter Games mindset right now, but life still goes on for the summer sports athletes. Michael and Nicole Phelps welcomed their second son on Monday, and it looks like he's going to turn out to be as big of an internet sensation as his older brother, Boomer. "I'm surrounded by boys and I couldn't be happier," Nicole wrote in the caption of her Instagram post announcing the birth of Beckett Richard Phelps. In what's become something of a family tradition, Michael and Boomer also simultaneously posted announcements to their own accounts.
The trio took the same coordinated approach back in August, when they first revealed that Nicole was expecting Beckett. "Lil mans going to be a Big Brother!!!" Nicole captioned a photo of Boomer and herself. Michael posted the same photo, writing, "Number 2 on the way!!!! So excited!! Wonder if it's a boy or a girl??" And although Boomer was only 15 months old at the time, he "posted" his own take, which featured a shot of him clapping delightedly with a positive pregnancy test in the foreground: "So excited to see what mama is having!!" the caption read. "Do I get to have a brother or a sister?!?" Do you think he realizes that mama peed on that?
Michael and Nicole (Johnson, at the time) announced Boomer's impending arrival back in November 2015, and shared, "Today we're over 12 weeks and it looks like we're having a boy!!!" This time around, though, they held back that detail. "We know the sex of the baby. We're not telling. That's, like, the one thing we're keeping to ourselves," Michael told Today in December. Although Boomer was a surprise, the couple planned to have their second child soon after. "We wanted our first to have somebody close in age, so they could grow up together, and they could go through things together and they could play with each other," the retired Olympian continued. He also added that he was grateful to be more involved with his wife's pregnancy this time around; Boomer arrived during the run-up to the 2016 Summer Games in Rio.
The new dad adjusted quickly, though. Last June, about a month after Boomer's first birthday, he told People, "It's been a good year, but a crazy year. I just don't want to miss out on anything with my family." He also shared that the couple planned to have more children, and Nicole was hoping for a girl. "It just depends on when," he said, adding that they were "trying to get moving on some things!" I'll save you the trouble of doing the math; it's likely that Nicole had just found out that she was pregnant days before that interview.
Now the question is, will Beckett capture America's collective heart just like his older brother? He "joined" Instagram at just 5 weeks old, but he really stole the show at the 2016 Olympics a couple months later, cheering his father on from the stands (OK, maybe not actually cheering) while wearing his absolutely precious Team USA-themed ear protection. His dad's no longer competing, but Boomer's 787,000 followers are still happy to stick around for images of him golfing, swimming, and playing with his dog siblings, Juno and Legend.
Without the Olympics to boost his profile, Beckett will no doubt have a tougher time amassing fans than Boomer did, but if he keeps showing up in his family's posts, he's sure to be a hit in no time. Or maybe he could just ask Asahd Khaled, infant record producer, to promote him to his 1.8 million followers? Kids these days, am I right?