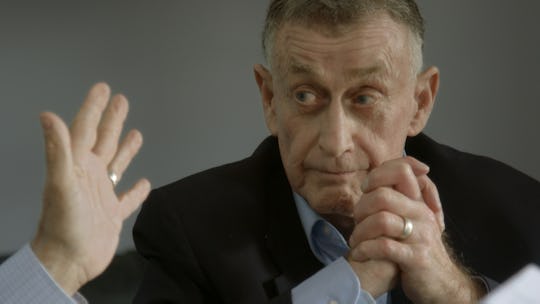 Netflix
Michael Peterson's Sexuality Caused Major Controversy On 'The Staircase'
Even though Michael Peterson was convicted of murdering his wife, Kathleen, those who knew them found it very difficult to believe. Their children, friends, and neighbors asserted that the Petersons had a very happy marriage; it didn't seem like there was a clear motive for murder. However, revelations about Michael Peterson's sexuality may have given the jury an unfair bias against him and impacted the outcome of his trial.
During the course of the investigation, it became public knowledge that Michael was bisexual. Gay porn had been found on his computer, as well as emails back and forth between Michael and a male sex worker named Brent Wolgamott. Wolgamott later testified during the trial that while they'd corresponded, they'd never actually met in person. The prosecution speculated that Kathleen's discovery of Michael's sexuality and his extramarital affairs led to a fight between them that resulted in her death.
Michael addressed that in the docuseries about his case that recently debuted on Netflix. On The Staircase, he said that he thought Kathleen was aware of the fact that he was having sex with other men while they were married, though they did not explicitly discuss it. He said he didn't have relationships with anyone else because Kathleen "took up [his] whole life," but he did have several encounters with other men.
While preparing with his defense team for the 2004 trial, Michael was asked about the affairs he'd had throughout both of his marriages (first to Patty Peterson, then Kathleen). When asked if he'd actually told Kathleen that he was sleeping with men, Michael said:
It was simply understood again that — no, I think it would have been for some strange reason more upsetting to her if it had been other women. I think that might have threatened her more, I don't know, but in all the conversations that we'd have, all the joking, every time we go to a military base: 'They're just like you. They're all gay. Look, they're all touching each other, patting each other all the time.' I think that there was enough awareness on her part of me as a person and who I was, which is what made this relationship so good, that yes, she understood these aspects about me and was not bothered about that because I loved her. That yes, I did have sex with other people, but that had absolutely nothing to do with not loving Kathleen or loving her less.
Michael maintained that his bisexuality was not the secret the prosecution seemed to think it was. Not only had his brother and parents known since he was a child (as his brother Bill states in The Staircase Episode 2), but his more immediate family was perfectly aware as well. But the prosecution felt that this was evidence that Michael was living an elaborately constructed lie.
In later episodes of The Staircase, Michael revisited the topic and the possibility that it may have made the jury view him differently. "Of course that had to have an impact!" he said. "Why does that translate into murder? It made no sense at all, but it certainly went, there it is in the juror's head." He continued to claim that Kathleen was "comfortable" with the entire situation, though the prosecution believed that she would not have been that accepting. They insisted that her discovery of his affairs could have led to a violent confrontation.
However, there were no signs that that was true; even during Wolgamott's testimony, he emphasized that Michael spoke warmly about Kathleen and said that they had a great relationship. Later in 2017, as depicted in the last episode of The Staircase, Judge Orlando Hudson said that he would not have let that aspect of Peterson's personal life be admitted into the trial:
Over the years, you can see how with time and more examination of the evidence that did come in, maybe [the trial] wasn't without prejudice. There are things that I would have changed. All of the homosexual evidence… however it was used, would have been unduly prejudicial to the defense.
There are many theories about what happened the night Kathleen died, but it doesn't seem as though Michael Peterson's sexuality was a relevant factor in figuring it out.