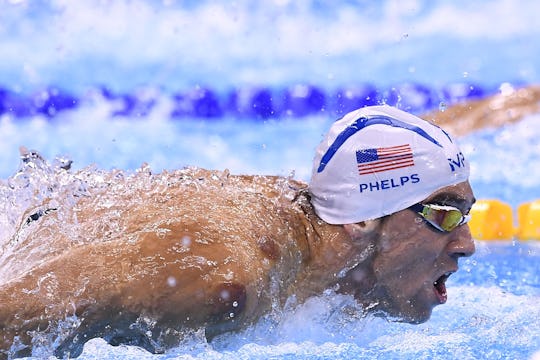 GABRIEL BOUYS/AFP/Getty Images
Michael Phelps Beats Ryan Lochte In The Men's 200 Individual Medley
It's been one of the best and most entertaining swimming rivalries to witness, and at one of the most anticipated highlights at the 2016 Rio Olympics, these swimmers followed through with an even more epic race. On Thursday night, Michael Phelps beat Ryan Lochte in the Men's 200 Individual Medley in Rio, capping off months of anticipation and friendly competition and laying waste to the rest of the field, finishing ahead of everyone else by what seemed like miles. What's more, the 12-year Lochte-Phelps rivalry was put to the test for what may have been the last time — and neither swimmer disappointed.
Phelps and Lochte are two of the most decorated swimmers in Olympic history. They have raced, practiced, and competed with and against each other over the years and duked it out possibly one last time on Thursday night.
After this race, Phelps became the first swimmer ever to win a gold medal four times in one individual event and has now won his 22nd gold medal at the Olympics. He now has a perfect record, four total events, at Olympic finals in Rio – two relay golds, two individual golds.
Lochte, his American rival, placed second, coming it at 1:56.28. Even though he's going home with a silver medal, Lochte seemed quite disappointed right after the race and said he might be taking a break after Rio to rest, both physically and mentally.
"It's been a long journey," Lochte said on Thursday. "I wish a did a little better. I felt great, but I guess I didn't have it tonight."
While Phelps is easily recognized as one of the greatest swimmers ever, Lochte has been brutally honest before that things might have been a bit different if they weren't competing at the same time.
"My career would definitely be different," Lochte said in an interview with NBC. "I guess you would say I'd be like the Michael Phelps of swimming if he wasn't there."
Phelps has planned on retiring after Rio to get married and to spend time with his baby boy, Boomer. So, there may be a day in the near future when Phelps and Lochte won't be competing against each other in the Olympics and things would surely be different.