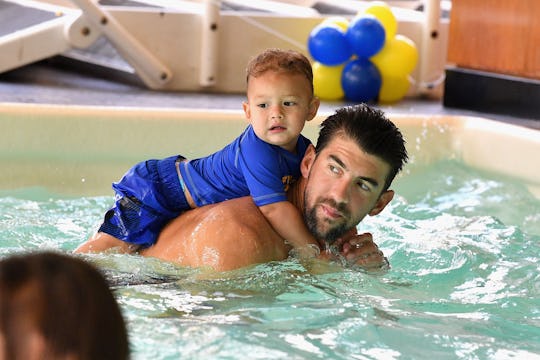 Dia Dipasupil/Getty Images Entertainment/Getty Images
Michael Phelps' Birthday Message To His Son Is So Sweet
Every four years, Michael Phelps becomes a household name when he takes to the Summer Olympics to continue to break records, set goals, and inspire others to achieve their dreams. But when Phelps isn't competing in the Olympics, he still remains a household name — except it's of a different kind. As a father of two, Phelps is probably more commonly referred to as "dad." Phelps' shared a birthday message to his oldest son, Boomer, and it's super sweet and shows just how much Phelps loves being a dad.
Two years ago on Saturday, Phelps was able to add a new accomplishment to his list of ever-growing ones: he became a dad for the first time after his then-fiancé, Nicole Johnson, gave birth to their first child together, according to the Daily Mail. Phelps announced Boomer's birth on Instagram, letting everyone know how excited he was to become a dad. "Best feeling I have ever felt in my life!!," Phelps wrote in the photo's caption.
On Boomer's second birthday Saturday, according to E! News, Phelps continued in the tradition of celebrating his son on Instagram — and his tribute is all kinds of perfect. In the photo, posted to Phelps' account, Boomer is seen with the cutest smile on his face, playfully grabbing his dad's mouth while Phelps looks into the camera.
"Happy bday Boomer Phelps!!," Phelps captioned the photo. "I love you so much little man...may this be your best 2nd bday your heart dreamt of!" OK, so Phelps' birthday message to his son might not be super elaborate and go into too much detail about why his father loves him, but it's super sweet regardless of how many words he used. The fact that Phelps wished his son a happy birthday on Instagram already says enough.
Phelps posting this birthday message to Instagram is super appropriate, especially since Boomer is a little bit of an Instagram celebrity himself for just having turned 2, according to E! News. On Boomer's Instagram account, he has amassed more than 782,000 followers, where he (OK, his parents) share photos of him playing golf, hanging out with his parents, and living a pretty great life for a toddler.
But Phelps' birthday message to Boomer shouldn't come as a major surprise. By now, Phelps fans are pretty aware that his son means the world to him, thanks to Phelps' past comments about being a parent to Boomer and his second son, Beckett Phelps, who he welcomed into the world earlier this year in February, according to USA Today. Last year, Phelps told People that he thought being a father to Boomer was "awesome." He said, "I think that is the coolest thing, watching him grow, and watching him figure out new things," Phelps said, according to People.
Swimming could very well be one of those "new things." Although Boomer is only 2, he is already exploring a potential career where he could walk in his famous father's footsteps. At just 3 months old, Boomer watched as his father became the "most decorated athlete in Olympic history," according to NBC, at the 2016 Summer Olympics. Since then, Boomer has become a little more mobile and he has been taking swim lessons, according to TIME. In 2017, Phelps told Entertainment Weekly that Boomer loves being in the water, but Phelps isn't necessarily going to make his son swim competitively. "It's going to be his choice no matter what," Phelps said. "If he wants to swim, great. I'm not going to push him one way or another."
Whether Boomer decides to swim as he gets older or not, it is clear that he has a very bright future ahead of him as he celebrates his second year of life.