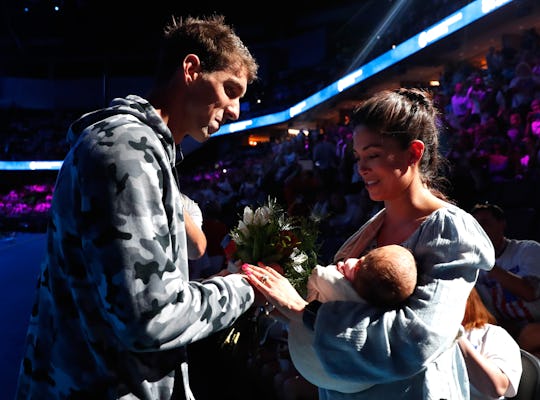 Al Bello/Getty Images Sport/Getty Images
Michael Phelps' Instagram Of Boomer Is Here To Make Everything Better
Michael Phelps swam in his last Olympics race ever this August and the swimmer went out on a high. He is now the most decorated athlete in Olympic history, finishing his career with 23 gold medals and 28 medals overall. Phelps took home eight medals at the 2004 Athens Olympics, eight in Beijing in 2008, six in London in 2012, and six at his final Olympic Games in Rio this summer. Some people, including fellow Team USA swimmer Ryan Lochte, held out hope that Phelps might make a valiant return to the sport. Phelps, however, emphatically shut those hopes down. If you were worried that you might not like what a Phelps retirement might look like, don't. The legendary swimmer posted an Instagram of his infant son Boomer to make everything better.
Phelps didn't even make it one day into retirement before heading back to the place he knows better than anywhere else - the pool. This time, though, he wasn't racing towards the finish line at break neck speed. Instead, he was enjoying some rest and relaxation with his family. He posted an adorable photo to his Instagram account of himself, his fiancee Nicole Johnson and their precious baby Boomer hanging out in the water. "There's nothing like being back home!!" Phelps captioned the cute picture. "Great way to spend my first day in retirement!!"
Boomer is on the fast track becoming a champion swimmer just like his dad. He's taken a few dips in the water before, and even posted some cute pictures on his own adorable Instagram account. Boomer's account, run by his parents, is full on sweet snaps of the three-month-old's adventures in Rio de Janeiro.