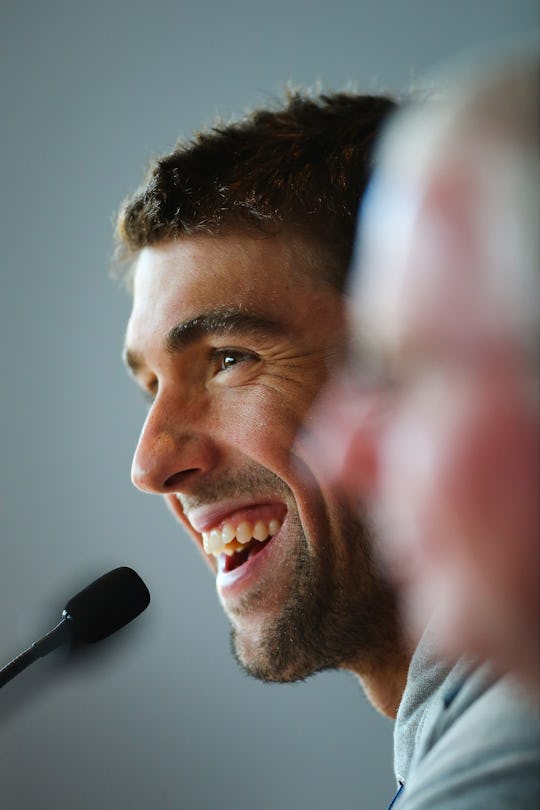 PATRICK HAMILTON/Getty Images
Michael Phelps Is Going To Be A Dad! The Olympian & His Fiance Are Expecting A Boy Early Next Year
Today on Instagram, Olympian Michael Phelps announced that he's welcoming a baby boy with fiancée Nicole Johnson. "We found out 8 weeks ago we were expecting... Today we're over 12 weeks and it looks like we're having a boy!!!" Phelps wrote. Johnson posted the news on her own Instagram: "Today marks 12 weeks and 5 days of us having a little one ... and yesterday we learned we're having a BOY ... We couldn't be happier!!"
The exciting development comes seven years after the couple first started dating. FOX Sports reports that Phelps and Johnson got engaged in February and are planning a wedding to follow the 2016 Summer Olympics. The good news is an antidote to a few rocky years for Phelps. A Sports Illustrated article published November 10 describes Phelps' response to recent scandals including a 2014 DUI; the Olympian pursued rehab and is training stronger than ever. "I'm back to being the little kid who once said anything is possible," he told SI.
As one would expect, Twitter is delighted by the news:
There's definitely greatness ahead for the soon-to-be newest member of the Phelps family!
Image: Patrick Hamilton/Getty Images