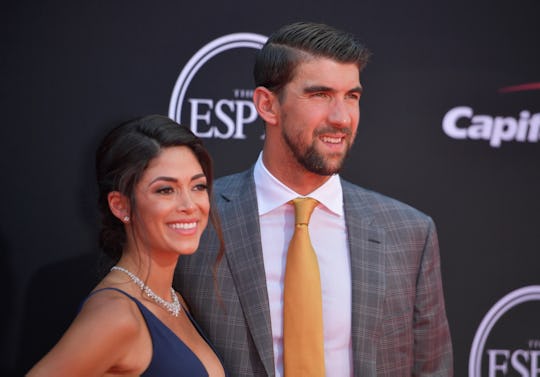 Matt Winkelmeyer/Getty Images Entertainment/Getty Images
Michael Phelps Opens Up About His Battle With Depression & His Growing Family
By now, people are used to seeing swimmer Michael Phelps celebrate his successes. Phelps is the most awarded Olympian of all time, with 22 gold medals to his name. But what goes on in Phelps' private life isn't what fans get to see when he swims on TV during the summer Olympics every four years. Phelps is a dad to 1-year-old son Boomer with another baby on the way, and is now opening up about that life behind the Olympics. In a new interview, Phelps opened up about his battle with depression and his growing family and his words are so poignant.
Phelps has a lot to be thankful for — he's the most decorated Olympic athlete of all time and one of the best swimmers of all time. His records, medals, and awards show that. But Phelps' journey to becoming such a decorated athlete wasn't the easiest. Phelps has been open about his past struggles with alcohol after it led to two DUI arrests, according to People. In 2016, Phelps said in an interview with Matt Lauer on TODAY, as reported by People, "Honestly at one point I felt like I didn't want to see another day." But Phelps is now opening up about having anxiety and depression during those times. Phelps told Us Weekly on Tuesday:
For me, it was all about being vulnerable. I think it's scary for a lot of people to think about that word. I just wanted to change. I was to the point where I didn't like who I was. I didn't like looking at myself like seeing the reflection you see in the mirror. I kind of tackled it head-on.
But Phelps had a lot to live for.
Phelps and wife Nicole had been dating on and off for eight years, according to People, before marrying and giving birth to their first son in the same year in 2016. While people saw all of these happy moments for what they were but there was still a lot more than meets the eye. Phelps elaborated on that, telling Us Weekly:
There are a lot of different things that we have going on and you're starting to see more, whether it's athletes or celebrities who are opening up and talking about depression and anxiety more. I think they're understanding that it's OK not to be OK.
Phelps' honesty is due to the new documentary, Angst, which features "Phelps and other adults talking openly about their anxiety," according to TODAY, and will be screened at schools and community centers. Phelps' words are so important to anyone who has ever felt shame from having anxiety. Anxiety can strike anyone at any time, no matter their successes.
Anxiety disorders are the most common mental illness in the United States, according to the Anxiety and Depression Association of America, affecting more than 18 percent of the population. In fact, 6.7 percent of American adults will experience a major depressive episode in the course of a year, according to the ADAA. No one suffering from these things should have to feel like they are alone — and like Phelps said, his words can help people know that it is OK to not feel the best or like yourself.
Phelps lives with his anxiety and depression, just like everyone else. But there are certainly some things that keep him going — like his career, his charity work with the Michael Phelps Foundation, his son Boomer, and his new child on the way.
In late August, Nicole announced that she and Phelps were expecting their second child. Phelps told Us Weekly that he had no idea his wife was pregnant or could be pregnant until she announced it in the sweetest way ever:
Nicole had made this journal for me of photos of just Boomer and I photos of Nicole and I and experiences, and we just put like special moments in that little journal. I woke up [one] morning and she handed me the journal and said open it. I opened to the photo of them in the backyard with the pregnancy test. I was pumped!
Phelps' life is about to change in a huge new way. But his words about anxiety and depression and his honesty about his struggles he has had with them can help someone else who is going through changes of their own.
Watch Romper's new video series, Romper's Doula Diaries:
Check out the entire Romper's Doula Diaries series and other videos on Facebook and the Bustle app across Apple TV, Roku, and Amazon Fire TV.