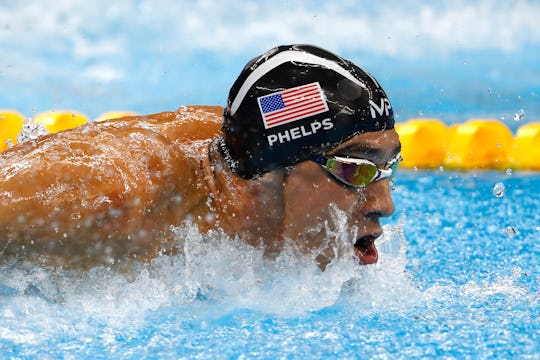 Clive Rose/Getty Images Sport/Getty Images
Michael Phelps' Quotes On Water Safety Are Important
To say Michael Phelps knows a thing or two about water safety would be an understatement. Though Phelps is the most decorated Olympic swimmer in history, he realizes that swimming also has its dangers. As the weather heats up and more children head out into swimming pools, it's important to for parents to be on alert, and that's why Michael Phelps' quotes on water safety are so important.
When Phelps' wife, Nicole Phelps, gave birth to their son Boomer almost one year ago, practically everyone expected the little boy would be a natural born swimmer. At just 3 months old, little Boomer was cheering his dad on from the sidelines at the 2016 Summer Olympics. But as Boomer heads into the pool, whether it's to follow in his dad's footsteps or just have fun as a kid, Phelps believes there is just one thing that takes priority over Boomer's goals, and that is being safe while swimming. "I think the biggest thing is just to get him to be water safe," Phelps told ABC News. "Trying to get more kids to be water safe — we lose too many kids in the water every year."
Phelps said he wouldn't be too disappointed if Boomer doesn't get into swimming as a sport (and it's a little too early for that expectation anyways). But judging from Phelps' and Nicole's Instagrams of Boomer, it appears that their son absolutely loves the water, which is why safety is so important to emphasize at such a young age. Phelps even enrolled Boomer in swim classes at 6 months old, according to People, advising fans to get their children enrolled in swimming as soon as possible. "Anytime you can get them in the water for water safety, the earlier the better," Phelps said during a Facebook Live broadcast.
Phelps is right about water safety when it comes to children. One in five people who die from drowning are children 14 or younger, according to the Centers for Disease Control and Prevention. Accidental drowning ranks fifth among the leading causes of unintentional death — and there are 372,000 annual drowning deaths worldwide, according to the World Health Organization. This is why teaching kids how to be water safe, especially before the summer rolls around, is vital. Phelps' organization, the Michael Phelps Foundation, works to spread this message and promote awareness.
Take it from one of the world's greatest swimmers — children should be taught about staying safe in the water from a young age.