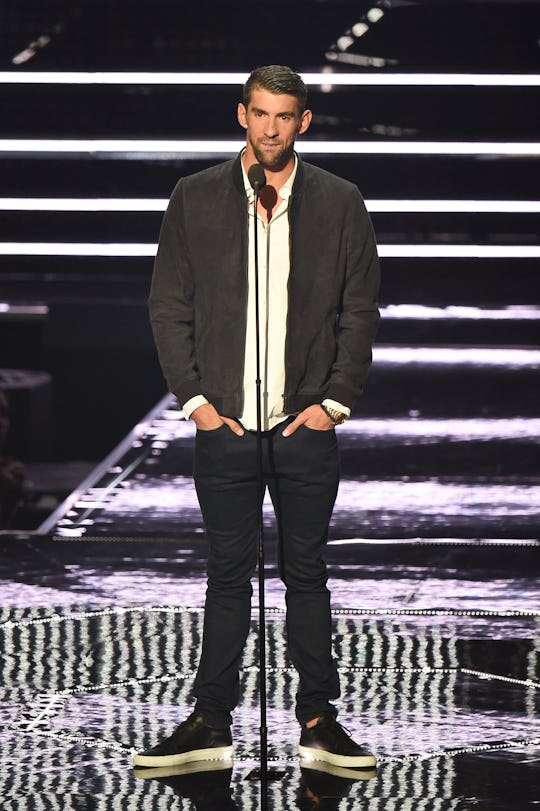 Michael Loccisano/Getty Images Entertainment/Getty Images
Michael Phelps' Reaction To Jimmy Fallon's Ryan Lochte Impression Was Everything
Strutting onstage in a tracksuit, fluorescent sneakers, bleached hair, and an Olympic medal, Jimmy Fallon did his best Lochte to a crowd of fans at the MTV VMAs. But perhaps the best part was that Fallon's biggest fan happened to be a gold medalist himself. Simply put, Michael Phelps' reaction to Jimmy Fallon's Ryan Lochte impression was, quite simply, everything. Upon realizing what was going on, Phelps took out his phone so that he wouldn't miss a second of Fallon's impression. With both hands, Phelps captured Fallon onstage and mouthed "oh my god" with a grin. He later went on to gush: "This is awesome." His fiancée Nicole Johnson laughed along beside him. In a night filled with stellar dancing and impassioned vocals, Fallon provided some much-appreciated comedy and social commentary, voicing what plenty of us have been thinking: that Ryan Lochte is the butt of everyone's joke, and perhaps rightly so. We're proud of plenty of our gold medalists, but after his most recent stunt, Lochte doesn't make the cut.
Phelps introduced the artist Future earlier in the evening, saying "There's no rapper more inspiring today than [he is]." He also revealed that, during the Rio Olympics, he used Future's music to get in the zone before a swim. Remember the notorious mean-mug-turned-meme that Phelps donned pre-race? Well, Future's to thank for the inspiration.
In Fallon's Lotche-eqsue speech, he asked "Is it too late now to say 'Sorry?'" Fallon then nodded: "That's my jam. It should be my jam. I wrote that song. I wrote it. I produced it. I directed all five nominees for video of the year." He then spouted lies about other nominees and winners, Kanye West, Adele, and Beyoncé among them. And then, in case anyone was unsure as to how Fallon would characterize Lochte, Fallon noted: "I couldn't tell you, even if there was a gun to my head. And there isn't. But I couldn't choose." Mic. Drop. Fallon finally announced the winner of Video of the Year, and Queen Beyoncé herself floated up to the stage to accept her award for "Formation."
Here's the question: Why did Phelps insist on taking what are likely to be low-quality video/photos? Was he sending a horizontal snapchat? Maybe he wanted to snap and send them out immediately in order to tease Lochte a bit further (I know, I know, unlikely). But what is likely? That Phelps' "oh my god" moment will be filed into the meme archives to be used at a later date—it offers a nice counter-balance to the angry, pre-race Phelps.