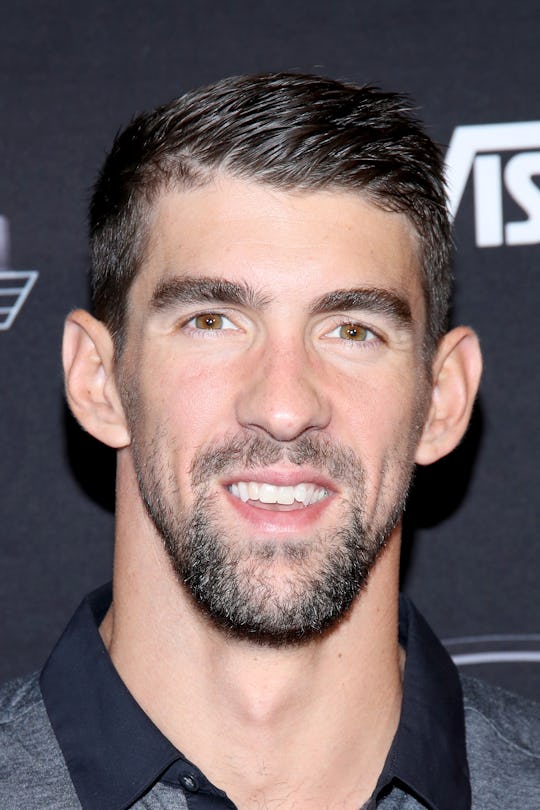 Randy Shropshire/Getty Images Entertainment/Getty Images
Michael Phelps Says He Has A New Dad Job After The Olympics, & It's Adorable
Michael Phelps is all about breaking records and it's not just in the pool. Normally, society still tends to paint dads as bumbling goofballs, but Michael Phelps says he has a new dad job and it's pretty adorable. And has nothing to do with taking out the trash or "babysitting" his own child — he's running his son's Instagram account, like a real PR pro. Phelps' son, Boomer, is 4 months old but he's already a social media star. Boomer had 5,000 followers in late June but now that the Olympics are over, he's up to 672,000 followers.
So a the 4-month-old has more followers than you do, but try not to feel too bad about that. Phelps is pretty proud. He told Jimmy Fallon during an appearance on The Tonight Show, "it's insane. He's got to be the most followed baby in the world." Phelps said that his fiancée Nicole Johnson takes most of the pics, but the swimmer comes up with the captions, and, as anyone with Instagram knows — it's sort of all about the caption.
The couple is planning their wedding in addition to making Boomer a star. Johnson told Cosmopolitan this month that Phelps is also trying to take on some of that work, too.
She said that she's done the bulk of it already, but there are only two things Phelps feels really passionate about. "I also know him well enough to know that he does want to be involved in what flavor our cake is going to be and what flowers he thinks are ugly and what flowers he thinks are really pretty," she said. Rumor has it that the wedding will be sometimes later this year and is probably a destination wedding, since they revealed that the festivities will be "small and intimate, " but will also include a big bash for "everyone in the States."
The Olympic champion is also keeping busy volunteering for the Arizona State University swim team, traveling, golfing, and making various appearances on television to talk about his Olympic wins — and of course, Boomer always comes along. When they stopped by The Tonight Show this week, Fallon said, "I jumped into the photo [backstage] because I had to grab him, I had to smell his little head." Phelps agreed, "here's nothing better than a baby smell, it's incredible."
Phelps seems to be getting used to his new retirement schedule and his dad duties as main Instagram captioner.