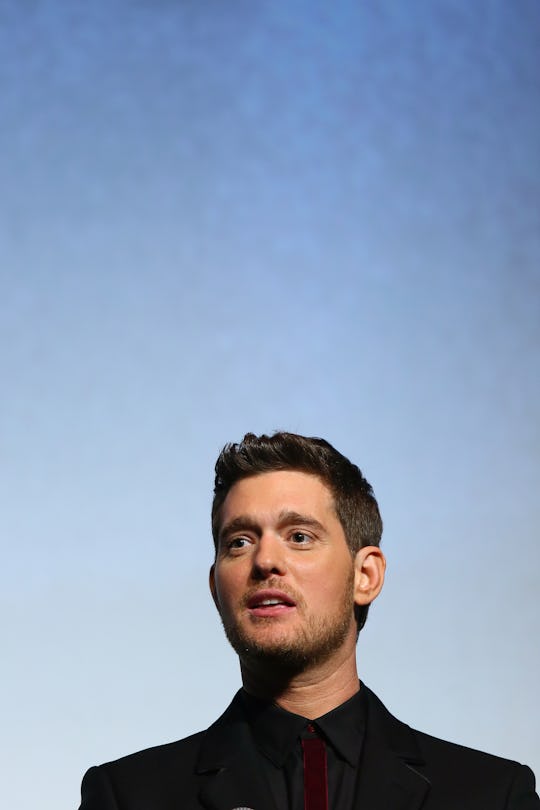 Ernesto S. Ruscio/Getty Images Entertainment/Getty Images
Micheal Buble Revealed How His Son's Battle With Cancer Has Changed His Perspective On Life
Having a sick child is one of the worst things, if not the worst thing, for any parent to experience. It's hard to imagine how truly heartbreaking and difficult being in that position is until you and your child have been there. It's been known for some time that Micheal Bublé's son was diagnosed with cancer and the 42-year-old singer is now opening up about how going through such a hellish ordeal has changed his perspective on life, shedding light on this unimaginable chapter in his life.
Bublé, who shares two sons with wife Luisana Lopilato, revealed in a 2016 Facebook post that his oldest son, Noah, who is now 4 years old, had been diagnosed with cancer. "We are devastated about the recent cancer diagnosis of our oldest son Noah who is currently undergoing treatment in the US," the post read. "We have always been very vocal about the importance of family and the love we have for our children. Luisana and I have put our careers on hold in order to devote all our time and attention to helping Noah get well." According to The Sun, Noah was diagnosed with liver cancer hepatoblastoma and he was expected to undergo months of chemotherapy.
After that announcement, Bublé took a step back from his music career, only recently getting back to it after Noah reportedly finished his cancer treatments in 2017, according to People. And now, in a new interview with Australian news outlet, the Herald Sun, the Canadian singer and songwriter shared how exactly Noah's sickness has changed his outlook on life and his career.
"I've been to hell," Bublé told the Herald Sun of his diagnosis and subsequent cancer treatments. According to Us Weekly, he went on to tell the Herald Sun:
I don't talk about the whole story, not even to my friends because it hurts too much. It's my boy. He's a superhero, he doesn't need to relive it over and again. But I've been to hell. And you know what, hell seems like a really nice place to vacation compared to where we've been.
Bublé also revealed in the same interview, according to People, that during that time, he had considered not only putting his career on hold, but never coming back to music. "I truly thought I'd never come back to music," he told the Herald Sun. "Family is what matters. The health of my children is No.1. The relationship with my family, my wife, my faith — all of it is easily No. 1."
Bublé and Lopilato are currently expecting their third child together — a baby girl — according to Entertainment Tonight, who will be here any day now. "I got my first little girl coming in three weeks... I've got a daughter coming," Bublé revealed during an interview on the Irish radio show, The Ian Dempsey Breakfast Show.
Noah's battle with cancer has undoubtedly been a life-changing and harrowing experience for Bublé. In the same interview with the Herald Sun, as reported by People, Bublé shared that going through it has "allowed" him to "have no fear" when it comes to things like his music career, critics, and record sales.
With Noah doing better now, Bublé has recently gotten back into the swing of things work-wise. According to the Vancouver Sun, Bublé had his first gig on July 7 in Dublin and will perform another show on July 13, and he reportedly has a new record in the works, too.
Since his 2016 diagnosis, Noah has reportedly made "remarkable strides" in his recovery, according to Entertainment Tonight, which reported that the young boy "had nearly fully recovered" as of 2017.
Watching your child battle cancer, and being there for them, is an unimaginably distressing experience to go through as a parent. And for Bublé, it seems that he and his family have come out stronger with a deeper love for each other than before. And with his daughter's arrival around the corner, that love is sure to grow even more.