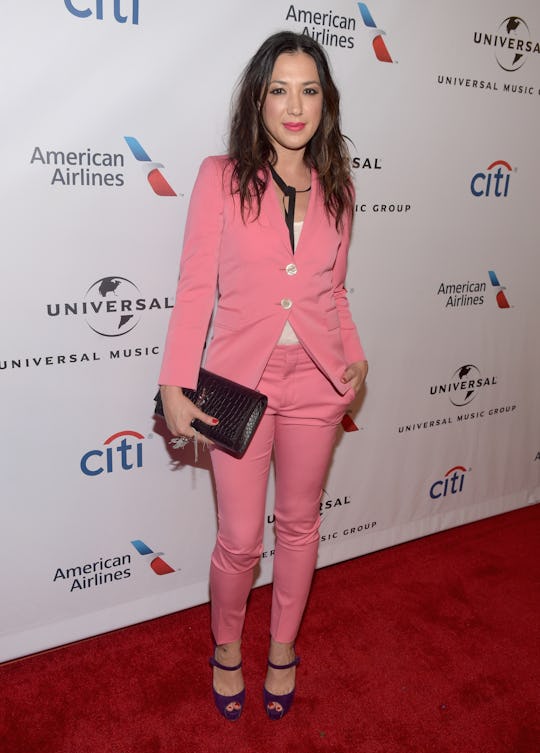 Jason Kempin/Getty Images Entertainment/Getty Images
Michelle Branch Just Welcomed Baby #2 With A Sweet Instagram Photo
On Sunday, singer Michelle Branch posted a photo of her "huge" overdue belly as she eagerly awaited her baby's arrival poolside, but it turns out she didn't have to wait much longer: Michelle Branch gave birth to her second child Tuesday night, and two days later, her son, Rhys James Carney, officially made his social media debut. Branch shared a photo of Rhys to her Instagram account, and wrote that she and fiancé Patrick Carney were "over the moon in love" with their new arrival.
Their son weighed in at 8 lbs 13oz, and was happily swaddled and snoozing in the photo Branch shared to Instagram, where her followers flooded the comments section with well-wishes for the couple. But while Rhys might be Branch and Carney's first child together, he's actually made their family a party of four: Branch also has a 13-year-old daughter, Owen, from a previous marriage. And though Branch shared in February that her pregnancy with Rhys was quite the surprise — they were only a few months away from the wedding they'd originally planned for May — it seems pretty clear it all worked out for the best. In an Instagram post revealing the pregnancy, Branch wrote that while she and Carney opted to postpone their wedding, they "couldn't be more excited" about having a baby on the way.
Branch documented much of her pregnancy with Rhys on social media — including the ways in which being unexpectedly pregnant definitely changed the way she'd expected her year to go. In March, the singer posted a shot of her growing belly while on the beach in Mexico, and shared that she was originally meant to be in London for her final wedding dress fitting, and on May 19, she wrote that instead of getting married to Carney in New Orleans like they'd planned, she was sitting at home, seven months pregnant, watching Meghan Markle and Prince Harry tie the knot on TV.
But parenthood certainly seems like a welcome adventure for the couple, whose whirlwind love story is seriously sweet. After first meeting at a Grammys party in 2015, Branch and Carney began collaborating professionally on her most recent album, Hopeless Romantic, the same year in which she split from her husband of 11 years, Teddy Landau. Yet, it wasn't long before Branch and Carney had fallen in love, and were living together with Owen in Carney's Nashville home. Carney proposed in 2017 on the night of Branch's 34th birthday, and that same year, Branch gushed about him in an interview with People, calling Carney "an amazing, amazing human," and explaining that they "both just jumped in with both feet."
Best of all though, Branch said she and Landau have maintained a pretty great relationship through it all, and told People that these days, their family life is a lot "like Modern Family." On Instagram, Branch regularly shares photos of Carney with Owen, and on Father's Day earlier this year, she gave him a shout-out for being both a step-dad to her daughter, as well as a father-to-be. She wrote,
Happy Father's Day, @officerpatrickcarney! Not only are you the most incredible step-dad to sweet Owen but I get to watch you become a father in roughly 9 more weeks!! I'm so lucky I get to go on this adventure with you.
Their road to parenthood may not have exactly gone the way they'd expected it would, but it sounds like Branch and Carney were beyond excited to welcome their son together. And now that he's finally here, hopefully there will be many more sweet family selfies to come on Branch's Instagram account.