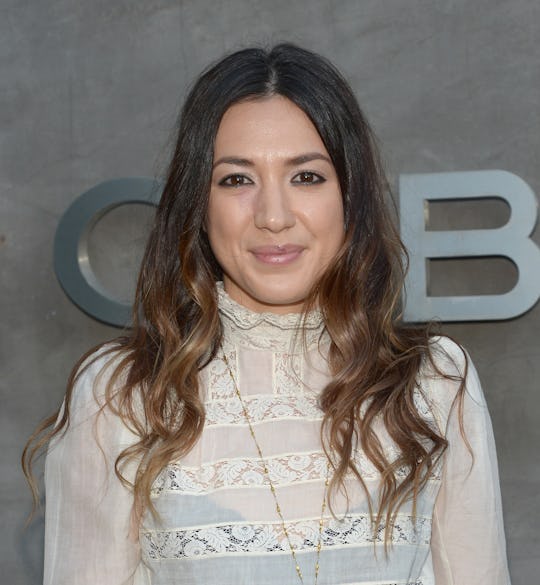 Jason Kempin/Getty Images Entertainment/Getty Images
Michelle Branch "Hoping The Full Moon" Induces Labor Is Every Exhausted Mom-To-Be — PHOTO
Anyone who has been pregnant before will probably agree: The third trimester feels like an eternity. Not only are you in the "home stretch" before finally meeting your little one, but you're huge, uncomfortable, peeing every 15 minutes, and possibly dealing with raging heartburn. By the time those last couple of weeks roll around, you're likely scouring the internet for something, anything to naturally kick your body into labor mode. Because you're just so over it all. One famous expectant mom definitely seems to be at that point. And honestly, Michelle Branch "hoping the full moon" induces labor is every exhausted mom-to-be.
As People reported, the singer took to Instagram on Sunday to share with her followers a bikini shot featuring her fully-cooked bump. The snap features Branch lounging pool-side with her bump front and center, along with the caption, "Family photo. Hoping the full moon does it's [sic] magic ✨🤞👶🏻🌕🤪 #huge." Fans didn't waste time offering up words of empathy for Branch. One Instagram user wrote, "Girl I know that feeling. Hope the baby comes ASAP! 🙌🏻🙏🏻."
Another follower commented, "Girl I am right there with you! Due Wednesday and being induced Thursday. This girl needs to come out!"
Meanwhile, others offered their own advice and encouragement when it comes to getting things moving. One person commented, "Blessings and jumping jacks. 🙏🏼🌝."
Another follower wrote, "Gorgeous as always !! Fingers crossed full moon brings good luck. 🌝🌝🌕🌕 @michellebranch."
Yet another Instagram user suggested, "Homeopathy.. Amica.. hot packs.. baths.. essential oils..you got this!"
Another fan chimed in with, "Eat spicy food ✌ blessings to you and baby!"
As Entertainment Tonight reported in February, Branch revealed she was expecting her second child via Instagram with an ultrasound video clip.
"Well, we were just about to send out Save The Dates for our wedding in May when we got this little surprise ❤️," she captioned the post. "Wedding is postponed and Baby Carney is happening this summer! Patrick and I couldn't be more excited! xx @officerpatrickcarney."
The "Breathe" singer and and Black Keys drummer Patrick Carney starting dating after they met in 2015, and they got engaged in July 2017, according to Entertainment Tonight. While this will be Carney's first child, Branch also has a 12-year-old daughter, Owen, with her ex husband, Teddy Landau, according to TODAY.
I hate to break it to Michelle Branch — because I know how uncomfortable she must be with a full-term baby overtaking her abdomen — but full moons don't actually induce labor. Despite the common thought that more babies are born during full moons, the numbers simply don't prove this to be true, according to the American Academy of Pediatrics (AAP). However, there are other things pregnant women who are 40 weeks along can try to naturally induce labor — with their doctor's blessing, of course. These include sex, exercise, nipple stimulation, acupuncture, acupressure, eating spicy foods, and more, according to Healthline. Although they aren't necessarily proven to do the trick, according to Healthline, many women have sworn by them anecdotally to jump-start the labor process. (And hey, even if labor doesn't begin, at least you're doing something to pass the time, right?)
For my last two pregnancies, I requested that my doctor strip my membranes in order to hopefully help things along in the labor department, and contractions actually started within a matter of hours. Granted, I still ended up being medically induced the following day with baby number two. But with baby number three, I went to the hospital later that evening and was already 6 centimeters dilated and having contractions just a few minutes apart. So if I pass my due date this time with baby number four, you can bet that I'll again be requesting the membrane stripping. Because as long as the third trimester as a whole seems, every day past my due date feels like a lifetime.
And who knows? Perhaps "luck" will be on my side on that fateful day, and there will also be full moon.