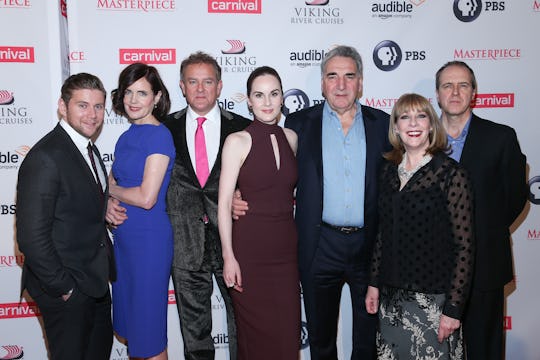 Rob Kim/Getty Images Entertainment/Getty Images
Michelle Dockery Hints That 'Downton Abbey' Could Return, But Some Things May Be Different
There has been quite a sizable historical period drama hole in our lives ever since Downton Abbey wrapped its sixth and final season stateside earlier this year. We can't help but miss the Crawley family and their extended circle of friends and servants – even Lady Mary who, more often than not, was kind of a huge jerk to just about everybody. Despite ending on a series finale that wrapped everything up neatly, fans haven't been able to let go of the hope that Downton might some day return. Now, one star is commenting on that possibility – Michelle Dockery hints that Downton Abbey could return in a new interview.
Dockery played the one and only witty and wry Lady Mary herself, throughout all six seasons of the series. In many ways, she was the de facto protagonist of the show – it kicked off its story in Season 1 with the death of Mary's fiancé Patrick aboard the Titanic, followed her on-again/0ff-again courtship with her true love (and eventual husband) Matthew Crawley through to his untimely death, and finally ended after both Mary and her sister/longtime frenemy Edith had finally both married (or, in Mary's case, remarried). The final episode of the series brought to an end just about every major storyline, resolving long-running plot points like Marigold's parentage, Moseley's teacher aspirations, and whether Daisy would ever get her sh*t together in an incredibly satisfying way.
But, of course, like most great things, fans can't bear to say goodbye forever. Luckily for those fans, in an interview with The Telegraph, Dockery recently suggested that she might be down for a continuation of Downton – in film form.
The interview largely focused on what the English actress has been up to post-Downton but the very end of the piece gives fans of the beloved drama a little bit of a tease regarding the show's future.
"The thing that I miss the most are my cast members," Dockery said. "But we are all still very close. I think there is potential for a film. That is something I would wholeheartedly consider, so we will see. It may not be over yet."
This is potentially amazing news, and it's not the first time the idea of a sequel movie has been bandied about. Deadline reported back in early July, immediately after Downton's 10 Emmy nominations were announced, that executive producer Gareth Neame and creator/showrunner Julian Fellowes told them that they "want to do the movie," and Fellowes even said that he has "plenty of ideas" for where the story would go – but Neame noted that "it's a complicated thing to put together because the cast are all off doing other things."
And therein lies the rub. It's important to remember that this is only one actress in the entire series saying she'd be interested in the film. In order for a movie to do justice to the show, most (if not all) of the original cast would need to be on board, in my not-so-humble opinion. It remains to be seen whether the cast and crew would be able to coordinate enough time to move forward with a new Downton project.
Dockery herself has a busy year ahead of her, with a starring role in the new TNT series Good Behavior coming later this year and filming as the female lead in an upcoming Netflix Western miniseries called Godless. Fellowes himself has been hard at work writing NBC's The Gilded Age, "a sort of American Downton about fortunes made and lost in late 19th century New York," according to The Telegraph.
Joanne Froggatt, who played Mary's maid and right-hand lady Anna and won SAG and Golden Globe Awards for the role, starred in the recently-released indie film Starfish and is set to appear in A Storm in the Stars and One Last Thing, two feature films both due next year. Maggie Smith had previously ruled herself out of appearing in any future Downton continuations, not because she is too busy but because her character was becoming "far too old for it to be believable," which, to be honest, is totally accurate.
One thing is for sure: if Downton ever comes back – in movie form or otherwise – we'll likely have to wait quite a while for everybody to be able to come together and create it.