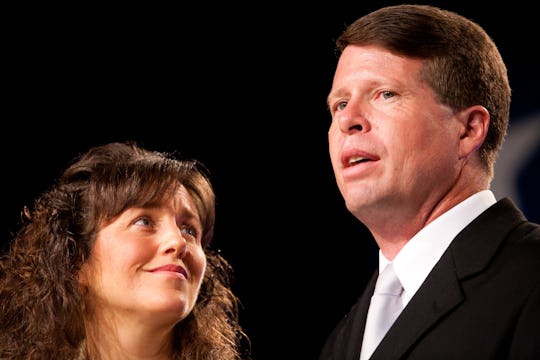 Brendan Hoffman/Getty Images Entertainment/Getty Images
Michelle Duggar's Views On Her Kids Going To College Actually Make A Lot Of Sense
I firmly believe that college is not for everyone. Access to higher education is uneven, after all. Not everyone can afford tuition, or can afford the risk of taking out a student loan. And some people just don't want to pursue an undergrad degree. Plus, others would rather receive on-the-job training to develop necessary life skills that last a lifetime. In fact, Michelle Duggar's views on college prioritize hands-on experience, and it makes a lot of sense.
In a blog post for TLC, Duggar answered a 19 Kids and Counting fan question about continuing education for the Duggar children, who are homeschooled. In particular, the fan of the now-canceled TLC series wanted to know what happens after the kids receive their GEDs. According to Duggar, after graduating, the Duggar kids move on to pursue in-the-field training, many of whom are paid for the work.
In response to the question, Duggar wrote,
For our family, it's all about apprenticing with other people who are really good at what they do and are happy to teach us. The benefits from gaining that knowledge, and often getting paid while they're learning, are a great thing. We're never going to stop learning and training in life.
So what are some of the Duggar children doing in addition to starring on TLC's Counting On? Jill Duggar Dillard and Jana Dillard had pursued midwifery, although, according to SheKnows, Jana faced some controversy around her competency as a midwife. As for Jinger Duggar, she is pursuing a career in photography, and has even shot events on her own, Duggar wrote.
In regard to the older Duggar boys, Joseph Duggar at one point worked at a local fire department and received first aid and first responder training, according to the TLC blog. But as of last year, he started working at his father Jim Bob's real estate business, according to the Hollywood Gossip. John-David, Jana's twin, has trained in civil service as a volunteer police officer and firefighter, Michelle Duggar wrote, but it's not clear what his current occupation is.
Then there is Josh Duggar, who works as a political activist in Washington, D.C. He once lead the anti-choice, anti-LGBTQ lobbying group, Family Research Council, but stepped down from his role amid reports that he allegedly molested several young girls, including his sisters, when he was in his late teens, according to Washington Post. TLC pulled the plug on 19 Kids and Counting after the news broke.
In response to the allegation, Josh wrote in a Facebook post, according to CNN,
Twelve years ago, as a young teenager I acted inexcusably for which I am extremely sorry and deeply regret. I hurt others, including my family and close friends. I confessed this to my parents who took several steps to help me address the situation. We spoke with the authorities where I confessed my wrongdoing and my parents arranged for me and those affected by my actions to receive counseling.
Like a lot of high school students, I took a year off before enrolling in college. I didn't have one of those take-a-vacation gap years; I couldn't afford that. But I needed to regroup mentally, and going to college right away wasn't the best way to do that. My mom was thrilled about my decision; she was afraid I wouldn't want to pursue higher education. (I knew I would and I did.) I sometimes think back on that experience and wonder if I'd change my mind if my son decided to do the same thing.
Then I think about Michelle Duggar's point-of-view. While I in no way agree with most, if not all, of her politics, she does have a point about education. Going to college is not the only way to learn. On-the-job training gives you important and necessary life skills and experience that can be transferred to other aspects of your life. The emphasis now placed on higher education in order to land a job actually does a disservice to the many bright and hardworking people who need work. It operates under the false — and frankly elitist — assumption that everyone has access to higher education in the first place.
I don't have to wonder about my son's college career for another 16 years. But I know I will make the effort to support whatever decision he believe is best for him.
Watch Romper's new video series, Romper's Doula Diaries:
Check out the entire Romper's Doula Diaries series and other videos on Facebook and the Bustle app across Apple TV, Roku, and Amazon Fire TV.