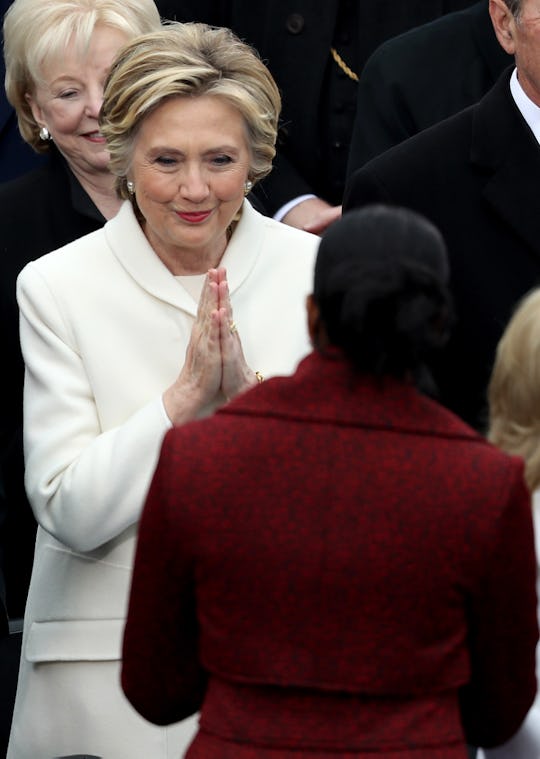 Joe Raedle/Getty Images News/Getty Images
LOL-Worthy Michelle & Hillary Inauguration Memes
Michelle Obama and Hillary Clinton are at the inauguration of Donald Trump today, and Twitter is having a little fun with some photos of the ladies at the event. There are a bunch of Michelle and Hillary inauguration memes that will make you laugh floating around, but Twitter really brought their A-game when it came to delivering the jokes. The tweets celebrated their friendship shared between the two incredibly iconic and deeply brilliant women, and gave us all #goals to achieve something similar in our own lives. But beyond that, the memes and jokes were relatable and funny, and gave us all a much-deserved reason to laugh today.
Obama and Clinton both were expected to be in attendance at the event, and they both made their appearances with grace, no doubt knowing how difficult this day was for each of them on totally personal levels. But that doesn't mean that Twitter didn't have a little bit of fun with the moments captured on camera of both of them reacting to the events unfolding on the Capitol. Of course, the cameras were on former Obama more regularly than Clinton, as she's the outgoing first lady, but Twitter users made sure Clinton was included in the fun as well.
The best of the Michelle Obama and Hillary Clinton memes at the inauguration aren't hard too find if you go looking. But here are some of the ones we thought really stood out on Twitter — there's even a reference to The Office in one of them, for any fans of the sitcom.
That Look
Trying To Keep It Together
When Melania Trump Gave The Former First Lady That Gift
TBH, Same.
Michelle Is The Halpert We All Needed Today
How? Just... How?
Never change, Twitter. Your memes and jokes are sustaining us today. And there are sure to be plenty more as Inauguration Day continues. These photos out of the inauguration of Obama and Clinton are too good for Twitter not to make something of them, and the meme-makers didn't disappoint. Who knows? Maybe one day, years from now, history will remember not just the photos and the performances and the speeches from today, but the best memes as well. TBH, we can only hope so.