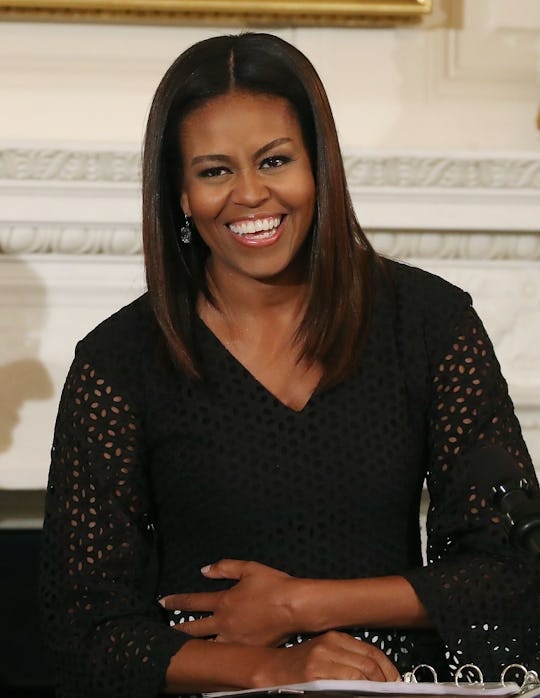 Mark Wilson/Getty Images News/Getty Images
Michelle Obama Is A Big Fan Of These Girls Rapping About Education & You Will Be, Too
Along with promoting healthy eating, education for young women was a top priority for Michelle Obama while her husband was in office. So it should come as no surprise that Michelle Obama is a fan of this music video of young girls rapping about education. I mean, who doesn't love a good video of empowered young women using their talents to talk about the things they feel passionate about? It's a win-win all around.
The video was made by students at the Milwaukee Excellence Charter in Wisconsin, where the girls and their teacher, Terrance Sims, re-wrote the lyrics to Tee Grizzly's "First Day Out," to make it all about education, according to REVOLT. The video was posted to Instagram where the former first lady left a comment on the video, writing, "Young Queens — Stay focused. Stay motivated. Never quit. I'm with you, and couldn't be prouder."
She signed the comment with her initials, which means that the comment was and not a member of her staff, as she did during her husband's tenure as commander-in-chief and is a common practice among politicians and celebs to add a personal touch to their social media accounts, according to The Atlantic.
But it really means that was feeling the video and if that doesn't give you goose bumps, what else will?
Sims took a screenshot of the comment and re-grammed the whole thing, obviously, because when Obama comments on a video about empowering young women to learn...you commemorate that moment.
The video is full of great lines, such as, "My knowledge will make me stand tall," "education is contagious," and "I'm telling you I will not fail."
In the second verse, a girl raps, "Michelle Obama showed me how to do," which means that the former first lady almost had to comment. And she really did change the way young women of color thought about themselves.
The song ends with the line, "In the year 2028, from a college I will graduate" and then the words "to be continued" scrolls across the screen.
Wisconsin's overall high school graduation rate was around 88 percent in 2016, which is higher than the average national rate of 82 percent. According to a press release from the Wisconsin Department of Public Instruction, State Superintendent Tony Evers said last year:
Wisconsin has always given young people the right to a public education from the ages of 4 to 20. As the founders of our state adopted our constitution, they recognized that a high school diploma means something and wanted to offer that opportunity to finish, even if it takes more than the 'typical' four years.'
But don't be fooled: Although Wisconsin has high graduation rates, they also have the largest gap in the country between rates of high school graduation for white student and for black students. In Milwaukee Public Schools, the rates of high school graduation are considerably lower for people of color, according to state data.
The four year graduation rate black students has been trending down to around 54 percent. For Hispanic students, the rate has sat at 58 percent since 2011, which means efforts from the state aren't effective, though Evers has pledged to "do more," according to USA Today.
And the five year graduation rate for high school students isn't any better at all — 67 percent of black students graduate in five years, but even that number has fallen two percentage points since 2011, according to the same USA Today report.
Milwaukee is also home to the country's oldest school voucher program, initiated back in 1990. According to NPR, in 1995 another voucher program was created that allowed religious schools to come into the program, and according to Wendell Harris, one of the leaders of the opposition to vouchers in the city, essentially allowed those schools to improve by bringing in wealthy, white students and leaving other schools without valuable resources.
Milwaukee's current "Parental Choice Program" is also allegedly kicking "bad" schools out of the program, which means that in essence, it's not working, according to SchoolsMatterMKE.com.
So it should come as no surprise that high school variation rates vary based on race — there's no equal distribution of resources to public schools. Which is precisely why the video out of Milwaukee Excellence Charter is so powerful.
While legislators continue to bicker about budgets and school vouchers, these young girls are just trying to do their work and make it not just through high school, but out of college by 2028. Wouldn't it be so nice if they had all the support and resources they needed?