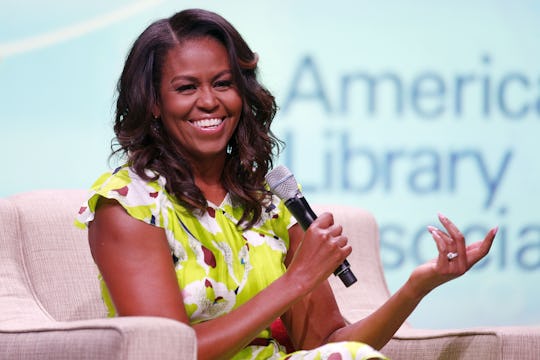 Jonathan Bachman/Getty Images News/Getty Images
Michelle Obama Launches Alliance To Educate Adolescent Girls All Over The World
Michelle Obama knows that when girls are educated, the whole world benefits. It's a belief she not only developed from years of international relations and charity work in public office, but one she's come to understand the importance of thanks to her own experiences with misogyny and oppression right here in the United States. That's why today, Michelle Obama launched the Global Girl Alliance, in order to educate and empower adolescent girls from all around the world.
CNN reported that Obama announced today her new initiative, which she debuted on Oct. 11, the International Day of the Girl. The Alliance, which is a program of the Obama Foundation, aims to raise money and resources to help girls get and stay in school. "Today, more than 98 million adolescent girls around the world are not in school. That's a lot of empty desks — and a lot of dreams that are being cut short," their website explains.
The Alliance's mission goes onto explain the importance of ensuring young women around the world have equal opportunities: "When girls get the opportunities they deserve, amazing things start to happen; poverty goes down, economies grow, families get stronger, and babies are born healthier. And the world, by all accounts, gets better."
Earlier today, Obama also penned an op-ed for CNN, in which she explained her motivation for creating this organization.
"With the Global Girls Alliance, we'll lift up the grassroots leaders in communities all over the world who are clearing away the hurdles that too many girls face. These are offering scholarships, launching mentorship programs, preparing girls to become entrepreneurs, and reaching out to parents so girls are supported not just at school, but at home as well," she explained.
Obama continued by outlining the organization's mission. "First, we'll connect organizations and grassroots leaders to each other, allowing them to hear about what's working elsewhere, to learn from one another, and, in turn, to achieve more together than they could on their own," she began. "Second, we're working to connect these leaders directly to people like you. We've partnered with GoFundMe to create a new social fundraising platform at GlobalGirlsAlliance.org/donate — a place where anyone, anywhere around the world, can support girls in places like India, Guatemala, or Uganda."
This is not the first time that Obama has been outspoken about her belief about the importance of educating young women.
In another op-ed for CNN, Obama shared her experiences traveling to other countries, in which getting to school is a challenge for many young women and girls. "The only thing that separates them from our children is geography and luck," she explained.
She continued:
Sometimes the issue is resources: their families simply can't afford the school fees; or the nearest school is hours away; or the school nearby doesn't have adequate bathroom facilities for girls, so they're forced to stay home during their menstrual cycles, and they wind up falling behind and dropping out. But often the root of the problem is really about attitudes and beliefs: families and communities simply don't think girls are worthy of an education, and they choose to marry them off as teenagers instead, often forcing them to start having children when they're basically still children themselves.
There's no question that even though she and her family are no longer serving in public office, the Obamas are committed to a lifetime of helping others, particularly those in unfair or disadvantaged situations.
If you or someone you know would like to help in the effort to educate more young women around the world, you can learn more about donating or volunteering with the Global Girls Alliance here.