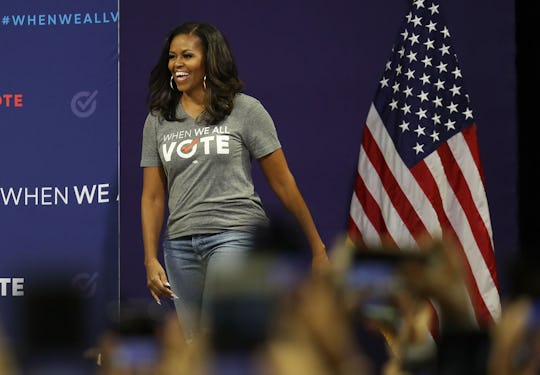 Joe Raedle/Getty Images News/Getty Images
Michelle Obama Just Revealed A Heartbreaking Miscarriage Over 20 Years Ago
Though she may no longer live in the White House, former first lady Michelle Obama has continued to use her platform to spread hopeful and empowering messages to women and girls across the country. In a soon-to-be-aired interview with ABC News though, she spoke candidly for the first time about a particularly difficult time in her life that many women can undoubtedly relate to. Michelle Obama revealed she had a miscarriage 20 years ago, according to The Associated Press, and said she felt "lost and alone" as she attempted to come to terms with it.
In many ways, the Obamas seem like the perfect family: Michelle and Barack celebrated 26 years of marriage in October, according to People, and still seem as in love as ever, and they're also proud parents to daughters Sasha and Malia, who are now 17 and 20. But in her upcoming memoir, Becoming, Michelle shared that she definitely experienced some obstacles on her way to motherhood. According to The Associated Press, she wrote,
We were trying to get pregnant and it wasn't going well. We had one pregnancy test come back positive, which caused us both to forget every worry and swoon with joy, but a couple of weeks later I had a miscarriage, which left me physically uncomfortable and cratered any optimism we felt.
The Obamas' experience definitely wasn't uncommon: according to the Mayo Clinic, it's estimated that about 10 to 20 percent of known pregnancies end in miscarriage, and many women also experience early miscarriage before they've even found out that they were expecting. Yet, in her interview on Good Morning America, Michelle acknowledged that, regardless, losing a pregnancy is often still incredibly difficult and upsetting — especially since it's not often something we openly discuss. She said,
I felt like I failed because I didn't know how common miscarriages were because we don't talk about them. We sit in our own pain, thinking that somehow we're broken.
Ultimately, Michelle said that she and Barack turned to in vitro fertilization to have their daughters, according to The Associated Press, and it meant that they were able to have the family that they'd hoped for. But while sharing her story is definitely a valuable way she can help normalize the experience of miscarriage, she also told Good Morning America's Robin Roberts that she believes women deserve to be told more often that "the biological clock is real," and that delaying motherhood really can make it a challenge to get pregnant naturally.
Michelle explained she learned that "egg production is limited" when she found herself struggling to get pregnant in her mid-30s, and said, "I think it's the worst thing that we do to each other as women — not share the truth about our bodies and how they work, and how they don't work."
It's definitely a valid point: according to Market Watch, as of 2016, more American women became first-time moms in their 30s than in their 20s, and the average age of first time moms in the United States is now 28. Like Michelle Obama, women who delay motherhood until their 30s are more likely to have advanced degrees — according to Pew Research, the median age of first-time motherhood for women with a master's degree is 30 years old, versus 25 years old for those who attended a two-year college — yet while that may have career and personal advantages, it can also mean that getting pregnant can be more challenging.
Any couple who has struggled with infertility also knows that it can take a toll on your relationship, and Michelle acknowledged that even a couple as seemingly rock-solid as her and Barack have had to work through the inevitable ups and downs of marriage. She told Roberts that they had gone to marriage counseling earlier in their relationship, and said,
Marriage counseling for us was one of those ways where we learned how to talk out our differences. I know too many young couples who struggle and think that somehow there's something wrong with them. And I want them to know that Michelle and Barack Obama, who have a phenomenal marriage and who love each other, we work on our marriage. And we get help with our marriage when we need it.
As deeply personal as the Obamas' experience was, the fact that Michelle has opened up about it so candidly will no doubt be incredibly helpful for many women and their partners. Miscarriage, just like all unforeseen difficulties, really can feel so upsetting and isolating, so there's certainly something reassuring about knowing that it can affect anyone — even the First Lady of the United States. And though it's never easy to share, Michelle's point is extremely valuable: the more we bring the pain of miscarriage out into the open, the easier it will be for everyone who will ever experience it.