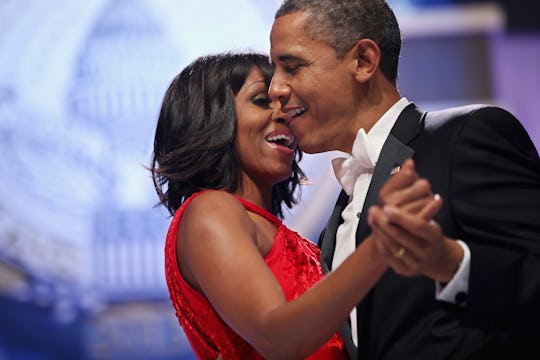 Chip Somodevilla/Getty Images News/Getty Images
Michelle Obama Shared Some Words Of Wisdom About Going To Couples Therapy
So many people grew up influenced heavily by the idea of fairytale romances. Culture has done little in past decades to inform and educate people about what long-term, monogamous relationships really look like, let alone how to function and thrive within them. Now, even though there's so much more transparent conversation about the challenges and triumphs of marriage, there are still unrealistic ideas floating around, and some people are tired of sitting idly while they perpetuate. In her new memoir, Michelle Obama revealed that she and Barack went to couples therapy, and explained that she wants to debunk the idea of "relationship goals" as a whole.
In her forthcoming memoir, Becoming, Obama opens up about what life has been like in the public eye for the majority of the past decade. She also reveals details of her personal life that have never been discussed before, chief among them regarding her marriage and kids, as ELLE reported.
However, one particular revelation is really striking a chord with some people. The Cut reported that Obama opened up to Oprah Winfrey in an OWN special set to air Nov. 15 about why she and Barack — who are often seen as a "perfect" couple — had to go through marriage counseling to work through their issues. It's important not only as a reminder that it's normal to have ups and downs in a relationship, but also that seeking help to navigate them is one of the healthiest and most productive things you can do for your life.
Obama reportedly wrote that when she and her husband had to go through therapy, it was because they had different ideas of what "love" meant. According to The Cut, she found herself surprised to learn that therapy wasn't about proving one person right and the other wrong, rather, learning how to meet each other's needs. According to the Oprah Magazine, she began:
You go because you think the counselor is going to help you make your case against the other person. 'Would you tell him about himself?!' And lo and behold, counseling wasn't that at all. It was about me exploring my sense of happiness. What clicked in me was that I need support and I need some from him. But I needed to figure out how to build my life in a way that works for me.
She continued to explain that given her husband's career path, she often felt "vulnerable" and "alone," as he had to travel extensively, which is something she was not used to.
I feel vulnerable all the time. And I had to learn how to express that to my husband, to tap into those parts of me that missed him — and the sadness that came from that — so that he could understand. He didn't understand distance in the same way. You know, he grew up without his mother in his life for most of his years, and he knew his mother loved him dearly, right? I always thought love was up close. Love is the dinner table, love is consistency, it is presence. So I had to share my vulnerability and also learn to love differently. It was an important part of my journey of becoming. Understanding how to become us.
This was not the first revelation made in the book. In fact, Obama made headlines a few weeks ago for openly talking about how she used IVF to conceive her daughters, Malia and Sasha.
Not only did she reveal that she and Barack needed to use fertility treatments to conceive their daughters, she also opened up about enduring a miscarriage. "I felt lost and alone, and I felt like I failed," CNN reported Obama told Robin Roberts in on Good Morning America. "I didn't know how common miscarriages were, because we don't talk about them. We sit in our own pain, thinking that somehow we're broken."
All in all, Obama is an icon and game-changer, if for nothing else than the fact that she is always willing to be honest and real, and help young women see their own lives with more clarity.