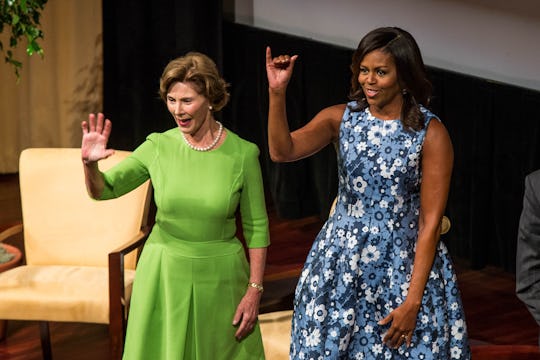 AFP/AFP/Getty Images
Michelle Obama Says Laura Bush Was "Nothing But Gracious" To Her & It's Refreshing
Outgoing first lady (and dream 2020 presidential candidate) Michelle Obama gave an interview to Oprah Winfrey set to air on Monday night and, knowing that we're all waiting with bated breath, CBS released a couple of clips to tease the discussion between the two powerhouses. One highlight from Mrs. Obama's last interview in the White House? When discussing the transition process with incoming first lady Melania Trump, Michelle Obama said Laura Bush was "nothing but gracious" to her, and so she is following her lead. As always, Mrs. Obama's insistence on going high in a year filled with low lows is so refreshing. Stay forever, Michelle!
In a clip released Monday on CBS This Morning, Mrs. Obama told Winfrey that she had let the future first lady know that her "door is always open" if Melania has questions. Mrs. Obama made sure to stress that she wasn't committing some extraordinary, unheard-of act of kindness, but that she was rather one in a long line of outgoing first ladies who had treated the women succeeding them with care and helpfulness, even if those women weren't from their same political party. The first lady said that when she herself came to the White House,
Laura Bush was nothing but gracious and helpful, and her team was right there for my team all throughout this entire eight year process... We will do whatever [Trump and her team] need to help them succeed.
"I'm not new in this going high thing," she said. "I'm modeling what was done for me."
Still, Mrs. Obama has perhaps had to go a little bit higher than her predecessors, given the contentiousness of the 2016 election, questions about Donald Trump's fitness for office, and how vehemently she and her husband campaigned for Hillary Clinton. (Then, of course, there was the whole notorious plagiarism incident....)
Questions abound about how much of a role Melania Trump will play in her husband's administration given that she is not moving full-time into the White House, at least not initially. Reports surfaced last week that Ivanka Trump, the president-elect's daughter, would take the office traditionally reserved for the first lady, and though a spokeswoman for Donald Trump denied the reports, saying that nothing had been decided yet, the possibility speaks to the ways in which Melania is shaping up to be a very different first lady from Obama.
All of this just makes the prospect of getting to hear from Mrs. Obama in her official role one last time even more exciting (and bittersweet, and soul-nourishing, and more).
According to the released clips, the conversation will also touch on Michelle Obama's reaction to being labeled an "angry black woman," the loss of hope that comes with a Trump presidency, and her response to everyone wishing she'd run for president. Make sure to tune in to CBS at 8 p.m. ET to catch every wise word.