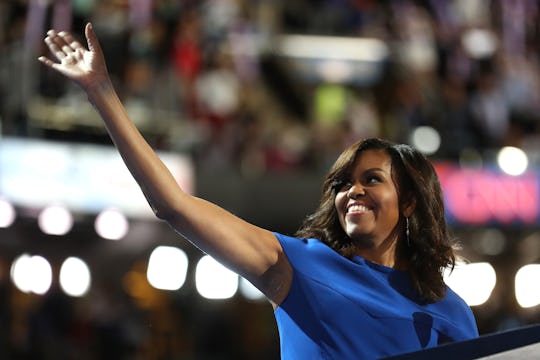 Joe Raedle/Getty Images News/Getty Images
Michelle Obama Says She Wants People To Act When They "Go High"
In Michelle Obama's much-anticipated interview with Oprah Winfrey, the outgoing and beloved first lady opened up about the past eight years, what she has planned for the future, and one of her most memorable and now infamous quotes: "When they go low, we go high." In her final sit-down interview as FLOTUS, she touched on those powerful words and said that she wants people to act when they "go high" and not just repeat the inspiring motto she first delivered at the Democratic National Convention back in July when she eloquently expressed her endorsement for Hillary Clinton.
They are certainly words to live by, but the famed talk show host asked Mrs. Obama how fellow Americans could put those words into action and what she thinks "acting on it" could look like. The first lady told Oprah that it boils down to a hopeful mentality and open-minded dialogue, something that you would like to see from others. She explained:
It looks like so many things, but it goes back to words matter. What we say, how we behave, we are modeling to the next generation. So if we want to be mature, if we want a nation that feels hopeful, then we need to speak in hopeful terms. Words mean things. We have to show love and empathy. If we want smart voters, we cannot vote from a place of openness. So we have to model what we want.
Those touching words passed on a poignant message to anyone who has ever felt defeated or vulnerable. She explained it back in July, saying that she and President Barack Obama tell their daughters, "When someone is cruel or acts like a bully, you don't stoop to their level. No, our motto is, when they go low, we go high."
It certainly moved the nation and became an "unofficial anthem of the Clinton campaign," according to the Huffington Post. But, now, since the election is done and over, and Donald Trump will in fact be the 45th President of the United States, Mrs. Obama's message to act on those words is more prevalent now than before.
In fact, many on social media are already feeling inspired:
Taking those high roads can often feel like you're taking on the world's highest and toughest mountain. But if we remember how deeply Americans took these words to heart when she first said it, it's not impossible to imagine that her latest message will resonate with the nation, and that she will continue to lead by example with love, compassion, and a whole lot of hope.