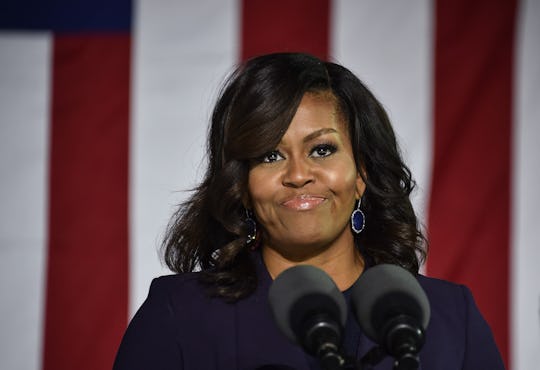 NICHOLAS KAMM/AFP/Getty Images
Michelle Obama Says She Went To Bed On Election Night, & Here's Why That's Beautiful
First Lady Michelle Obama has emerged as one of the most powerful political voices in the world. And even though on the campaign trail she never uttered the name "Trump" it became obvious that Michelle was willing to put it all on the line to make sure the man who rose to political prominence on a racist lie about her husband didn't get anywhere near the White House. So how did she react as she watched the results come in? Michelle Obama says she went to bed on Election Night. It's good to hear she's getting her rest. Because we're going to need the First Lady to keep fighting for what's right even after President Obama leaves office.
Michelle is many things to the American people — Mom-in-Chief, the number one cheerleader for healthy kids, a fierce dancer, and someone who isn't afraid to tell the American people they can do better. Throughout the 2016 presidential campaign, Mrs. Obama took the political world by storm. She brought down the house during the Democratic National Convention with her now famous, "when they go low" speech. She explained how she talks to her daughters about the ugliness Trump has encouraged in American politics. Here's the passage from her DNC speech, according to MSNBC:
How we urge them to ignore those who question their father's citizenship or faith. How we insist that this hateful language they hear form public figures on TV does not represent the true spirit of this country. How we explain that when someone is cruel or acts like a bully you don't stoop to their level. No, our moto is: when they go low, we go high.
This campaign was deeply personal for the First Lady, who has always tried to stay out of the politics that she called a "mess," according to the New York Times. But this campaign was something different. After Trump's Access Hollywood tape came out, showing him bragging about sexually assaulting women, Michelle Obama delivered another campaign speech that seemed to take the collective breath out of the country.
"Now is the time for all of us to stand up and say enough is enough," she said during an October speech in New Hampshire, according to the New York Times. "This has got to stop. Right now."
But despite the First Lady's powerful words and passionate pleas, it didn't stop. Now Donald Trump is the President-elect, and People Magazine asked Michelle how she reacted to watching the votes come in on election night.
"I went to bed," she said. "I don't like to watch the political discourse; I never have. I barely did with him (President Obama)."
Now the woman who the Obama campaign dubbed "The Closer" in 2008, according to the New York Times, is getting ready to leave office and get some much deserved rest. But let's hope she doesn't stay gone too long. The country needs Michelle Obama, and her reminders that Americans can always do, and be, better.