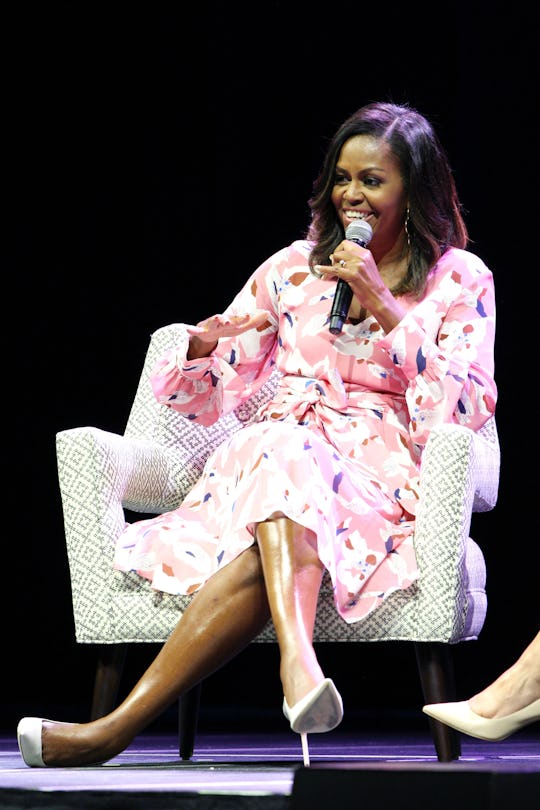 Jason Bahr/Getty Images Entertainment/Getty Images
Michelle Obama Has A Message For Women Who Voted For Trump
It's been almost a year since the 2016 presidential election, and I know, that sounds absolutely impossible. But it's true. President Donald Trump has been in office for over eight months now and so much has changed. But, back in November, when election results began pouring in, many across the nation were shocked at the number of women who had voted for Trump instead of Hillary Clinton. And now, one former first lady is speaking up about those statistics. Yeah, Michelle Obama said that women for Trump voted "against their own voice," and she isn't wrong.
Speaking at the Inbound marketing conference in Boston on Wednesday, Obama, alongside author Roxanne Gay, spoke about all the current happenings in Washington, D.C., including the current administration. But perhaps one of Obama's most poignant comment was when she said, "Any woman who voted against Hillary Clinton voted against their own voice," as Glamour reported.
And truly, with figures showing that 41 percent of women voted for Trump, Obama's comment is both important and frightening. Why did so many women vote for a man who had made disgusting comments about women numerous times and never even apologized for them? That's still a fairly large question, and one that many are still trying to figure out. What is certain, though, is that Trump is certainly not fighting for women — especially mothers. Here's how that's true:
Trump Stopped An Equal Pay Mandate
In August, it was announced that the Trump administration would be doing away with an Obama-era mandate "requiring large companies to report how much they pay workers by race and gender," NBC News reported. While Trump's daughter, Ivanka Trump, has touted herself as a feminist and champion for women, she defended her father's actions. In a statement, Ivanka said, "While I believe the intention was good and agree that pay transparency is important, the proposed policy would not yield the intended results," according to NBC News.
Clearly, Ivanka has no plans to hold her father accountable, and his plan to not hold large companies accountable shows that he had no intentions of standing up for women.
Trump's Proposed Budget Disproportionally Impacts Women
As was announced back in May, Trump's proposed budget for 2018 would likely have a hugely negative impact on women, especially lower-income women.
According to Elle, "the proposed plan would prohibit Planned Parenthood from participating in any program funded through Congress' annual Labor-HHS bill." So, the one in five women who rely on Planned Parenthood's services would be at risk of not being able to get cancer screenings, birth control, and other mandatory health services.
But that's not all Trump's budget would target. Funding for Medicaid would also be severely cut under the president's budget, despite Trump's previous claims that he would do no such thing. But, unfortunately, he could. And in cutting Medicaid funding, Trump is again explicitly targeting women.
As Quartz reported, 39 percent of "low income American women of reproductive age (15 to 49) are covered by the program." And those women could be at risk of losing their benefits under Trump's budget. Furthermore, as the Center for American Progress noted:
The Trump budget would slash $200 million from the Special Supplemental Nutrition Program for Women, Infants, and Children, or WIC, and threaten other nutrition initiatives with a 21 percent cut to the U.S. Department of Agriculture.
So yeah, that budget is really harmful to women and their families.
His Administration, Staff, & Cabinet Are Stacked With Individuals With Questionable Histories
Unfortunately, Trump has surrounded himself with people who don't have a good track record of respecting women all that much. Trump's Supreme Court nominee, Neil Gorsuch, is reportedly one such in particular, and perhaps the example with the most power now. According to the Center for American Progress:
Gorsuch's former law students said he told the class that employers should ask female job applicants if they plan to have children and went on to argue that women manipulate employer-provided maternity leave policies. Gorsuch denied this in his hearing but failed to affirm legal protections against pregnancy discrimination — which are critical for working women.
And that's not all. Seema Verma, who was Trump's appointee to run Medicare and Medicaid, has said in the past that "maternity coverage should be optional for insurers," according to the Center for American Progress. Many members of Trump's administration don't stand up for women, but Gorsuch and Verma stand out as those with a startling amount of power who could easily change the lives of women everywhere with relative ease.
While Obama went on to say that she and President Barack Obama have "chosen to be supportive of this administration," her initial comment still stands.
Truly, Trump has yet to prove that he's a champion for women, or has any plans to do so.
Watch Romper's new video series, Romper's Doula Diaries:
Check out the entire Romper's Doula Diaries series and other videos on Facebook and the Bustle app across Apple TV, Roku, and Amazon Fire TV.