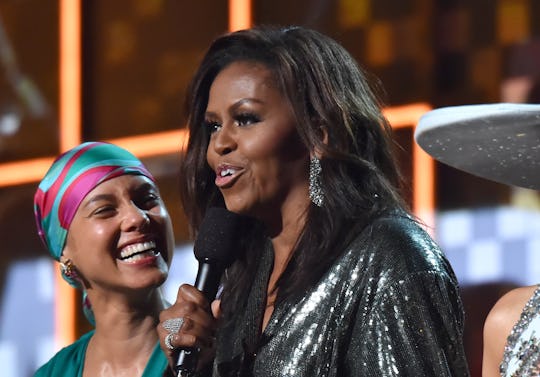 Lester Cohen/Getty Images Entertainment/Getty Images
Michelle Obama Is Officially A Grammy Winner
When you think of the Grammy Awards, you probably picture the most popular recording artists today taking home that gold trophy. But because it was announced off-camera on Sunday night, you may have missed that beloved FLOTUS, author, and all-around wonderful human Michelle Obama also won a Grammy last night for her best-selling audiobook Becoming and is anyone actually surprised?
Obama took home the honors for best spoken-word album for the audiobook of her memoir, Becoming, CNN reported. In doing so, she ended up beating out Michael Diamond, Adam Horovitz, Scott Sherratt, and Dan Zitt for the Beastie Boys Book; Eric Alexandrakis for I.V. Catatonia: 20 Years As a Two-Time Cancer Survivor; John Waters for Mr. Know-It-All; and Sekou Andrews & The String Theory for Sekou Andrews & The String Theory.
Fun fact: This isn't even the Obama family's first Grammy Award. While it's certainly Michelle's first, President Barack Obama has actually won two Grammys: One for audiobook recordings of Dreams of My Father in 2006 and The Audacity of Hope in 2008.
Given that Becoming is well on its way to becoming the best-selling memoir ever, Obama's win wasn't exactly shocking to fans. In fact, supporters of the former first lady are already have their sights set on the possibility of her achieving the coveted EGOT (Emmy, Grammy, Oscar, and Tony). American Factory — a documentary from the Obamas' production company — has been nominated for an Oscar, after all. (So a win on Feb. 9 would mean the "G" and the "O" are checked off.)
Former vice president/2020 Democratic presidential candidate Joe Biden was among those who took to Twitter to congratulate Obama following her Grammy win. "Congrats @MichelleObama on winning a Grammy for telling your story with strength — and with grace," he tweeted on Sunday. "Jill and I are so thrilled for you. Just beat Barack to an EGOT, will ya?"
When the print version of her book was released, Michelle opened up about her memoir — and that her journey toward "becoming" still isn't over. "But the truth is, for me, each decade has offered something amazing that I would never have imagined. And if I had stopped looking, I would have missed out on so much," she told Oprah Winfrey in November 2018. "So I'm still becoming, and this is the story of my journey. Hopefully, it will spark conversations, especially among young people, about their journeys."
If you're still not convinced you should download the audiobook for Becoming ASAP, check out this excerpt from Obama's memoir, and I guarantee you'll be swayed. Congrats to Michelle Obama on her first Grammy Award!