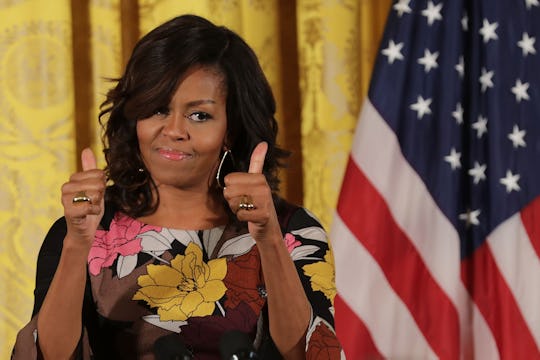 Chip Somodevilla/Getty Images News/Getty Images
Michelle Obama Won't Run For Office, President Says, Because She's Too Sensible For That
After Hillary Clinton's devastating loss in the presidential election, people are still holding onto hope that they will see a female president take office in their lifetime. Up until now, many thought that woman could be Michelle Obama — a lawyer, writer, and first lady of the United States. Unfortunately, it turns out that Michelle Obama won't run for office, according to a recent interview with her husband, President Barack Obama. In the interview with Rolling Stone, Obama squashed a lot of people's hopes and dreams with one sentence.
During the time Michelle spent campaigning for Clinton, it was clear how much she would be missed as first lady. The speeches she gave on the campaign trail were powerful — they said exactly what needed to be said about our nation and the first lady appeared very presidential herself. Her amazing speech at the 2016 Democratic National Convention solidified the fact that she belonged up there — not as first lady but as the Democratic nominee. She's got the experience to be a president along with the composure and grace. But all of those people who were crossing their fingers for another Obama presidency will have to put those dreams on hold.
In one last interview as president, President Obama opened up to Rolling Stone about Michelle's future political career — which he said was likely non-existent:
Michelle will never run for office. She is a talented person as I know. You can see the incredible resonance that she has with the American people. But I joke that she's too sensible to want to be in politics.
Thanks, Obama. However discouraging it may be to some, Obama is right — even if he is joking. Running for and being the president is incredibly stressful and costly, according to Fortune, and in more ways than one.
This is not the first time that supporters have been told that Michelle won't run for office. In March, Michelle told attendees at South by Southwest that she would not run for president, saying "enough is enough." But that doesn't mean that people aren't still holding onto hope — Twitter went wild after election night, with users hoping Michelle would run for president in the future. And according to The Independent, three political action campaigns have popped up in the past month, all aiming to raise money for Michelle to run for president. A similar PAC helped raise millions of dollars for Clinton to run in 2008.
But there is some good news — the Obamas are not staying out of politics forever. Obama told Rolling Stone that he and Michelle would still be "very active" in politics once he leaves office, just "at a grassroots level." While Michelle may never run for president, it doesn't mean she's going to fade away from the world of politics anytime soon.