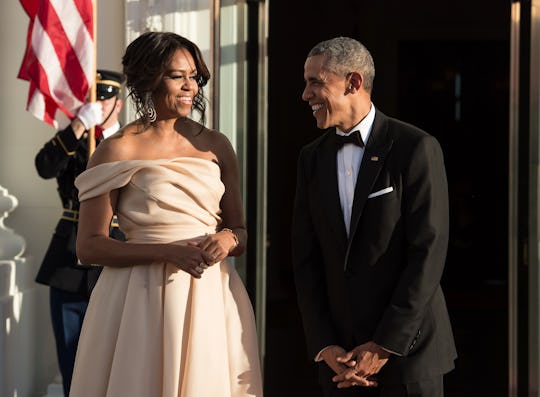 NICHOLAS KAMM/AFP/Getty Images
Michelle Obama's Birthday Message To Barack Was Simple & Beautiful
Getting birthday messages on social media is the norm now, even for the Commander in Chief. Michelle Obama's birthday message to Barack is seriously adorable. The First Lady took to Instagram to share a photo and a message sure to make POTUS and FLOTUS fans swoon.
President Obama is having a pretty good birthday week. He's still getting buzz for his moving speech at the Democratic National Convention, and The Washington Post reported that Obama's approval ratings are going up: Fox News puts him at 52 percent approval, while CNN/ORC revealed he's got a solid 54 percent. Now, he's turning 55. That's a milestone birthday for anyone, but it's a particularly big deal for Obama: it's his last birthday in the Oval Office. Like most Americans, Obama doesn't get the day off for his big day: the White House schedule revealed his plans to eat lunch with Vice President Joe Biden before heading to a National Security Council Meeting and a press conference in the Pentagon briefing room. Luckily, the First Lady knew how to make the workday special, posting a sweet photo of herself with Obama at what appears to be a state dinner in May. She captioned the image, "55 years young and that smile still gets me every single day. Happy birthday, Barack. I love you. -mo."
The president may be all business this afternoon, but NBC affiliate WILX reported that Obama's 55th birthday party is planned for tonight. The celebration unofficially started on Wednesday, when Young African Leaders attending a D.C. summit with Obama in attendance sang "Happy Birthday." The White House hasn't detailed plans for tonight, but 1600 Pennsylvania Avenue has a long history of epic celebrations. When Obama turned 50, Politico reported that the president celebrated with a star-studded barbecue. Members of the political elite mingled with celebrities, from comedian Chris Rock to rapper Jay Z. The party started with guests munching hamburgers and eating pie in the Rose Garden before settling in for a private concert in the East Room featuring a performance by Stevie Wonder.
The First Lady's 50th birthday party seemed to be equally amazing; according to People, she celebrated with hors d'oeuvres, champagne, and plenty of dancing in the East Room. John Legend sang "Happy Birthday," Beyoncé gave a mini concert, and Stevie Wonder reportedly played a medley at the piano.
Sure, most people don't get to mingle with celebrities and dance through private performances on their birthday, but the Obamas aren't that different from most Americans: based on FLOTUS' Instagram message, they still know that a simple expression of love can be the most beautiful birthday gift of all.