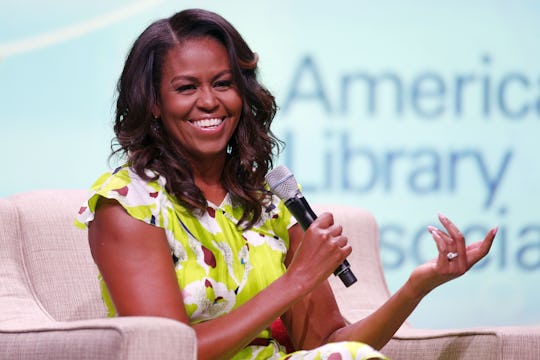 Jonathan Bachman/Getty Images News/Getty Images
Everything You Need To Know So You Don't Miss Michelle Obama On Her Upcoming Book Tour
She's the mother we'd all like to sit down with for lunch and now we can do just that — well, something close to that. Alongside a stadium of your best friends, you'll soon be able to see Michelle Obama during her upcoming book tour as she promotes her new memoir, Becoming. But where exactly is she stopping and how you can ensure you'll get to attend? Here's everything you need to know.
The former first lady announced the tour on social media this week with a video discussing changes since her time in the White House, her writing process, and a few details of the tour itself. The most important thing to keep in mind is that this isn't just any author, so it's no wonder the events are different than most book promotions. The tour is being produced by Live Nation, according to The Washington Post, which pointed out that the company is better known for touring artists like Rihanna and Katy Perry.
It's a 10-city tour, according to the book's website, and it's focused on major population centers like Dallas and Washington, D.C. Things kick off in Obama's hometown of Chicago on Nov. 13, the day the book releases as she explained in her video announcement. Other cities where the tour will stop are Los Angeles, Boston, Philadelphia, Brooklyn, Detroit, Denver, and San Jose. All the events start at 8:00 p.m. local time. According to UPI, 10 percent of the receipts from ticket sales will be donated to local charities, schools and community groups in the tour's cities.
Registration for ticket pre-sales is open now and ends soon on Sept. 18. The pre-sale starts on Sept. 20 at 10 a.m. local time and the public sale is Sept. 21 at 10 a.m. local time. All the details are available on Obama's book website, BecomingMichelleObama.com.
Obama posted a caption on her Instagram post explaining that she wanted to dig deep into her life story for the kind of details that are buried under the surface. To really discover the influences that made her who she is, rather than just rattling off her "stats" as she called them. As she shared on Instagram:
As I've written my memoir, Becoming, I've spent a lot of time thinking about my story, mining it for the kinds of details I'd usually just brush off or even forget about—the narrow taillights of my father's car, a talk with my mother on a drive home, the heat of my daughter's forehead when she ran a fever. And in doing so, I've realized that those surface-level "stats" don't really tell my story at all.
In the video, she described the book as "candid, honest, totally and utterly me," something she admitted was also a little frightening. Her interest now, she said in the book's announcement, is to see what kinds of stories and memories it pulls forth from those who read it.
"I'm hoping that because of this book, others feel the power of their own voice and their own story. Not in the big moments but in the little things, the small moments, the bumps, the bruises, the highs and the lows. Because those are the things that make us uniquely who we are," she said.
During the book tour events, she promises some conversations with some of her friends and family as well as "some people that you all know." She set a high expectation for them, saying she hoped they would be "fun and funny and inspiring, insightful."
This is the second book for Obama. She also wrote American Grown: The Story of the White House Kitchen Garden and Gardens Across America in 2012, which you can see for sale on Amazon. Since leaving the White House, she and President Barack Obama have also been working on a development deal with Netflix, as Variety reported.
Becoming is available for pre-sale through Amazon and major retailers listed on the book's website, and you'll officially be able to start reading it when it releases Nov. 13.