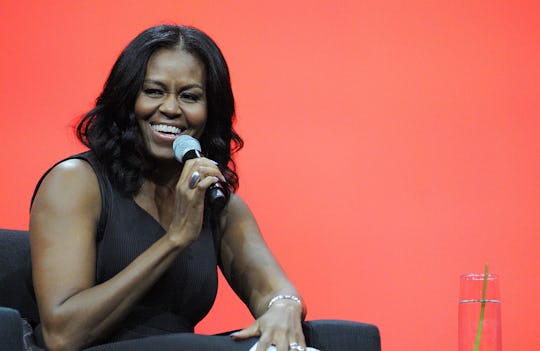 Gerardo Mora/Getty Images News/Getty Images
Michelle Obama's Fitness Tips Will Help You Get Moving
As if her famous biceps weren't fitspo enough, fabulous FLOTUS Michelle Obama is sharing with the public more of her secrets for healthy living. And Mrs. Obama's fitness routine, which she posted to her Instagram account this week, will actually make you want to work out. Why? Her secret to staying in shape is the company and motivation of her friends.
The former first lady's Instagram album, which she posted on Monday, contained a few workout photos and some background on what keeps her moving. By hosting "bootcamp weekends" of fun and fitness, Mrs. Obama is able to create a support system for herself and her friends that facilitates healthy living for everyone involved. As she explained in the caption,
When I was at the White House, I often hosted bootcamp weekends for my close girlfriends. It didn't matter that we were all at varying fitness levels. Our bootcamp weekends were a reminder that if we want to keep taking care of others, we need to take care of ourselves first. And even though I'm no longer at the White House, I've continued this tradition and wanted to share some photos.
According to a source that spoke to People recently, there are about a dozen friends, old and new, in Mrs. Obama's bootcamp group. Despite being at different stages in their fitness journeys, they are able to lift each other up to reach their goals.
In her post, Mrs. Obama went on to share how crucial her friends have been in keeping her healthy and happy, as well as a recommendation that others follow in their footsteps and work up a sweat with others:
My girlfriends have been there for me through all kinds of life transitions over the years – including a pretty big one recently! – and we've done our best to stay healthy together. Whether it's a bootcamp or a walk around the neighborhood, I hope you and your crew can find some time this summer to be healthy together.
The Washington Post reported a partial list of those in attendance at Mrs. Obama's most recent bootcamp. Seen on the field with her were big names such as Sharon Malone, famous OBGYN and the wife of former attorney general Eric H. Holder Jr.; Obama's former aide, Susan Sher; and Columbia University professor Elizabeth Alexander. Leading the workout was the Obamas' personal trainer, Cornell McClellan.
Michelle Obama is no stranger to the world of physical fitness, having launched the Let's Move! campaign in 2011, an initiative dedicated to combatting childhood obesity and ensuring the health of future generations of Americans. She has also been very open about her own fitness over the years, even sharing a video of her workout routine in 2015.
Even without the White House fitness center as a setting for her bootcamps, it seems Mrs. Obama is still inspiring #fitnessgoals in all of us.