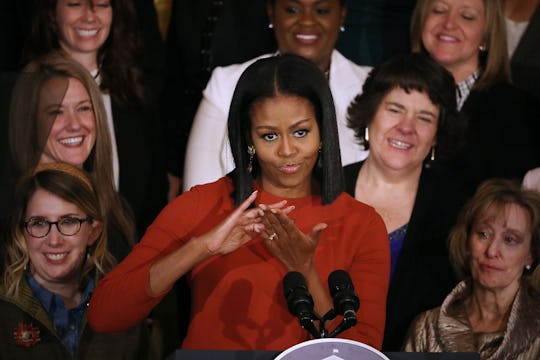 Chip Somodevilla/Getty Images News/Getty Images
Michelle Obama Posts Motivational Instagram Pic
Many Americans may miss Michelle Obama desperately, but she seems to be doing just fine. On Monday, the former first lady posted a photo on Instagram to celebrate the first day of spring. And even though she's no longer in the White House, Michelle Obama is still encouraging kids and families to get out, and get active.
The adorable photo showed Bo and Sunny, famed presidential dogs extraordinaire, out on a walk, looking back at their owner adoringly. (It's exactly how I imagine I'd look at her, if I ever got lucky enough to be in the same room.) Mrs. Obama captioned the photo, "Look who has a spring in their step! Celebrate the #FirstDayofSpring by grabbing a friend, heading outside, and getting moving."
The caption seemed to be a call back to Mrs. Obama's "Let's Move" campaign, her signature initiative (and maybe also a hint that we all need to get equally adorable pups to play with too). Through the campaign, the former FLOTUS worked on updating the standards of nutrition in school lunches (because, no, as much as we might wish it were the case, pizza is not a vegetable), and increasing the amount of physical activity in schools, in order to make kids across the country healthier and happier. And she even brought children from all sorts of backgrounds to the White House gardens, so they could appreciate the beauty of the outdoors.
Given her passion for health and for improving lives, it's no surprise that Mrs. Obama would use an adorable puppy Instagram to remind her followers to get active. And although this Instagram is only a small bit of encouragement, it's a nice reminder for the people who love her that, just because there's a new first lady in the White House (well, at least she's there every once in a while), Mrs. Obama hasn't stopped caring.
Since the end of her husband's term, Mrs. Obama has landed an amazing, record-setting book deal, gone on a much-needed vacation in the British Virgin Islands, and appeared on Masterchef Junior, where she challenged the young chefs to cook a healthy meal with produce from her White House garden. (Well, technically, she filmed the episode while she was still the first lady, but it only aired last week.)
But she's not just having a good time. She and her husband, President Barack Obama, are also working through The Obama Foundation, to "focus on developing the next generation of citizens — and what it means to be a good citizen in the 21st century."
In other words, Michelle Obama hasn't forgotten about us. And we certainly haven't forgotten about her.