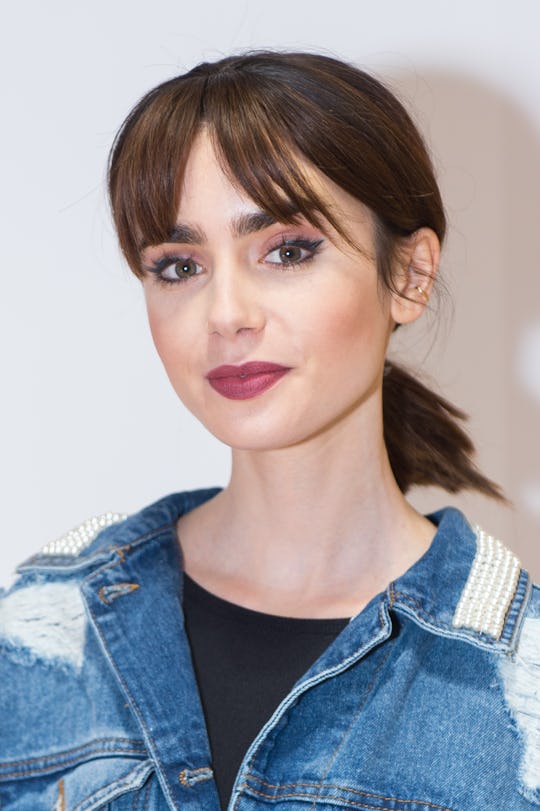 Emma McIntyre/Getty Images Entertainment/Getty Images
Michelle Obama's Sweet Letter To Lily Collins
Imagine if your role model turned out to be one of your biggest fans. That's exactly what happened to 28-year-old actress Lily Collins, who recently received a message of support from an unexpected hero, leaving her (understandably) in "a deep state of shock." Michelle Obama's letter to Lily Collins really couldn't be sweeter or more hopeful, and Collins was nice enough to share Obama's sentiments with the world on her Instagram account.
Collins sent a copy of her new book to the former FLOTUS. The collection of essays, called Unfiltered: No Shame, No Regrets, Just Me, gets pretty personal. Delving into her difficult experiences with an eating disorder and an emotionally abusive relationship, the book definitely lives up to its title, unafraid and willing to share everything. Owning her history, Collins put her past pain into a format for readers to connect with. "There's no reason to be afraid or shameful," she shared with Us Weekly.
In the video below, Collins reads her letter from Obama out loud. She also posted an Instagram photo showing off Obama's letter in full, with a beautiful signature at the bottom. "Thank you from the bottom of my heart Michelle Obama for your encouragement and support," the caption to the post reads. "You have no idea how much this means to me. And that Wonder Woman stamp is everything."
The letter first thanks Collins for the book and reveals that Mrs. Obama can't wait to share it with her daughters, Sasha and Malia. Then, she looks optimistically forward, sharing: "The outpouring of support I have received from women across the country continues to amaze me, and I am filled with a great sense of hope for our shared future." Signing off, the former FLOTUS gives Collins a quote that she said reminded her of the essays in Unfiltered: "Here's to strong women, may we know them, may we be them, may we raise them." Naturally, Collins shared that she's going to frame her her letter — I mean, wouldn't you?
This isn't the first young star to get a letter of support from her favorite FLOTUS role model. Back in March, 17-year-old Yara Shahidi, who stars in Black-ish, actually got some college recommendation letters from Mrs. Obama herself. "She is very amazing and such a supporter, which is something very surreal to say," Shahidi said of Mrs. Obama.
It seems like the letters serve as Mrs. Obama's way to repay "the outpouring of support" that she first mentioned to Collins. Maybe she's looking to make her mailed words of wisdom a habit, encouraging women all over to keep hustling while still standing by their sisters, and starting a new, first lady trend that definitely deserves to stick around.