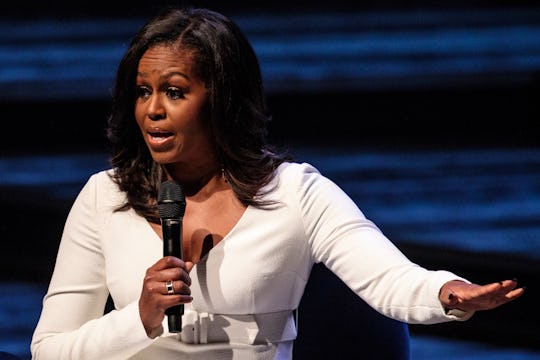 Jack Taylor/Getty Images News/Getty Images
All Moms Need To Hear Michelle Obama's Parenting Advice For Meghan Markle
They say it takes a village to raise a child, but the village is significantly more helpful when there are people within it who can speak to your exact circumstances, and for members of the royal family — whether in the bloodline or through marriage — that's kind of rare to come by. But Michelle Obama's parenting advice for Meghan Markle is as poignant as it is succinct, and anyone could learn from her many years of wisdom.
If you really think about it, Obama and Markle have a lot in common. They are both married to world leaders, and subsequently have opted into raising their families under a scrutinizing public eye. (Markle is due to have her first child in the spring, Good Housekeeping reported.) Having kids and trying to raise them well is intimidating enough, but with the rest of the world constantly photographing, documenting, criticizing, and commenting on your every move as well... it can be really intimidating.
Appearing on the cover of Good Housekeeping UK in light of the release of her memoir, Becoming, Obama was asked what advice she had for the newest royal. Her answer was nothing short of perfect.
"Like me, Meghan probably never dreamt that she'd have a life like this, and the pressure you feel – from yourself and from others – can sometimes feel like a lot," Obama told the magazine.
She continued: "So my biggest piece of advice would be to take some time and don't be in a hurry to do anything. I spent the first few months in the White House mainly worrying about my daughters, making sure they were off to a good start at school and making new friends before I launched into any more ambitious work. I think it's OK — it's good, even — to do that."
Obama went on to say that with such a significant platform, there's plenty of opportunity to make a big impact on the world, and that she hopes Markle will "maximize" her potential.
"What I'd say is that there's so much opportunity to do good with a platform like that — and I think Meghan can maximize her impact for others, as well her own happiness, if she's doing something that resonates with her personally," she said.
It's not the first poignant thing Obama has said regarding parenthood and pregnancy. In fact, she made headlines when the first copies of her memoir were being distributed for review as she spoke candidly about suffering a miscarriage and then conceiving her daughters with Barack Obama via IVF, a fertility treatment.
"I felt like I failed because I didn't know how common miscarriages were because we don't talk about them," the BBC reported Obama said. "We sit in our own pain, thinking that somehow we're broken... it's important to talk to young mothers about the fact that miscarriages happen."
Obama went onto say that she realized that the "biological clock is real," and that her "egg production is limited," when she was 34, which is the point at which she sought help for fertilization.
"I think it's the worst thing that we do to each other as women, not share the truth about our bodies and how they work," the BBC reported Obama told Good Morning America.
Obama has also detailed another area of life in which she encourages young people to get help if needed, and that's marriage. In fact, TIME reported she opened up about her and Barack attending therapy to work through their issues early on, and how helpful it was, in that same interview with Good Morning America.
"Marriage counseling, for us, was one of those ways where we learned how to talk out our differences," she said, adding:
I know too many young couples who struggle and think that somehow there's something wrong with them. And I want them to know that Michelle and Barack Obama, who have a phenomenal marriage and who love each other, we work on our marriage. And we get help with our marriage when we need it.
Whether she's talking about marriage, motherhood, or what she hopes to pass onto young women, it's clear that Obama is a well of wisdom, and everyone's fortunate that she's been so willing to share that so openly — whether we're raising royal babies or not.
This first-time mom wants to have a home birth, but is she ready? Watch how a doula supports a military mom who's determined to have a home birth in Episode One of Romper's Doula Diaries, Season Two, below. Visit Bustle Digital Group's YouTube page for the next three episodes, launching every Monday starting November 26.